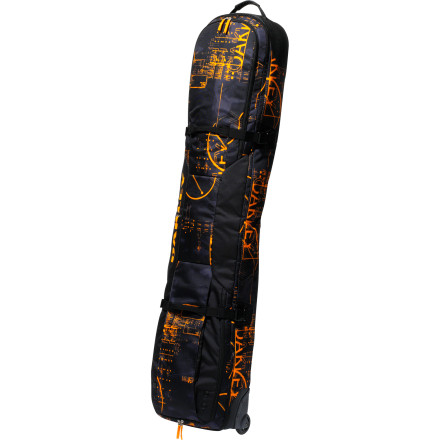 You've worked hard for your time off, and the last thing you want to do is waste valuable vacation energy worrying about your gear. Thankfully, the folks at Oakley created the O Board Box. Designed to protect two of your decks, this water-repellent and abrasion-resistant board bag also has five wide-grip handles for easy board-schlepping. If you need a free hand, sturdy wheels with sure-grip tread and smooth rolling bearings let you pull this puppy through crowded airports and hotel lobbies with ease. The mesh accessory pocket offers a bit of organized storage, to separate your boards from your precious goodies. A lockable zipper prevents strangers from touching your stuff, and the graphic print adds an element of fashion to this functional snowboard bag.

Polyester with heavy PU coating
Lockable zipper
5 wide-grip handles
Wheels
Holds up to two 165cm boards
Gets the job done
Familiarity:

I've put it through the wringer
Being a minimalist I was suspect of having the exterior pockets on both ends. Turns out they are great for organizing.

-The boot pocket is rolling end, places the weight down low for easy/light rolling, and is vented to allow your liners to breath. I fit my size 12's in easily on the 165cm bag.

-the oversize wheels roll better, especially through parking lots covered in pow...they dont plow like small skate wheels tend to do

-the inner mesh pocket is too small. it is approx 6" x 4." really Oakley? its dang near useless for stowing tools and spare parts.

- the bag has 2x board hold down straps which really stiffens up the bag for easy rolling.

-the tow handle on the end (one on the wheeled side also) is padded and tows nicely. the lift handle on the side is not padded and going any distance with will make your hand hurt. the compression straps across the top are great and do not hurt the hands



I have had several Burton bags:

Wheelie Locker-->great bag if somebody else is paying your overweight baggage fees. allows you to pack too much stuff for a two week trip, let alone a 3 day trip

Wheelie Gig-->good bag, needs compression straps, both zipper pulls broke on me

Gig Bag-->board hold down strap pulled out from the seam



Overall the design is great but is a bit overpriced when considering you can get a Dakine High Roller (additional zippered pocket) for less or a Dakine Low Roller (doesnt have compression straps) for about 60% of the price



Areas to improve:

-Make all handles padded, especially for the price tag

-add more vents-->my boots arent the only thing that goes in a snowboard bag that are damn or have ice stuck to them

-increase size of inner mesh pocket

-for the price, it should have an integrated set of buckles for piggy backing other luggage

On design, the bag is 4+ stars, on value, it is 3 stars
Unanswered Question
any notice on when the 165cm are gonna be...
any notice on when the 165cm are gonna be available?


are there two separate bags being theres...
are there two separate bags being theres a 155cm and a 165cm? or is it one single bag saying thats the board length for capacity?
Best Answer
We usually have two different bags available. One is meant for boards up to 155 cm in length, and one is for up to 165 cm in length. Unfortunately we are sold out of the 165 right now. But it looks like we should get some more in later this month. So check back if that's the size you need.
Hi, what is the weight of this bag?
Hi, what is the weight of this bag?
Approximately 2.5 pounds.