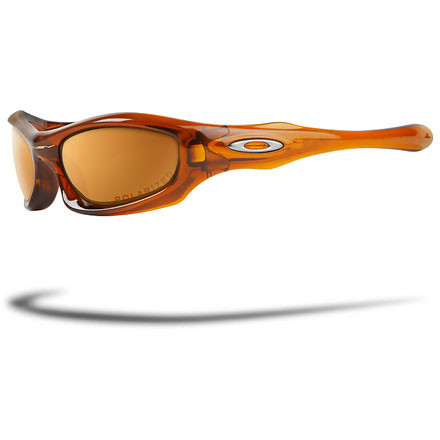 Detail Images
So far I have purchased two pairs of oakleys, the monster dog and fuel cells. Both great pairs of sunglasses and both were polarized. However my favorite were the monster dog because they kept out the light from the sides, so their is no back glare. I still use my monster dog sunglasses more than my fuel cells.
This is the first pair of Oakleys I've owned, and so far I love them. I use these for general purpose as well as safety glasses for outdoor target shooting.
If you have never worn polarized glasses before, it can take a bit of getting used to. Certain things like some car windows and LCD screens will look a bit strange.
This was also my first time ordering from backcountry, and was very pleased with the prices and how quickly they shipped my order, will definitely order from here again.
, ☃bcs_badge_alumni_label☃
Monster Dog Product Video
Rob shows you the finer points of the Oakley Monster Dog Sunglasses; materials, lenses, shape and dimensions.
I'm in the Army and these are perfect. they are ballistic qualified and keep glare to a minimum. Watch out though if your in the service too, the polarized lens may not meet reg due to its reflectiveness.
Do these sunglassess fog up? Do they hide...
Do these sunglassess fog up? Do they hide a person's eyes from view?
They do fog up and they hide your eyes for the most part. You can see them if you really are trying
These glasses will fog up, but only if you breathe on them. It will for the most part never fog on you when you are doing something while wearing them. Every pair of glasses is capable of fogging,it just that with Oakleys it takes a serious effort. Also all polarized sunglasses will block the wearers eyes.
I come here first looking
These are fantastic shades, Im in Iraq and these do a great job of filtering the sun and keeping the dust out of my eyes as its always a windy dust bowl here. This site has yet to let me down with great service, customer support and quality products. I shop here first now.
Oakley Monster Dog Polarized Shades
Best shades ever! Excellent lenses and awesome design. Worth every penny. Deliver was not as fast as expected, but it came in great condition.
The polarized version of the Monster Dogs is key to cutting down on glare. they are great for snowboarding, golfing, wakeboarding and kayaking. Love them
My Straight-Jacket replacement
I've had a pair of Oakley Straight-Jackets for over 10 years. They've been everywhere, all over the Rockies and Canada.I ski up to 30 days a year and I've never cared for goggles ( Unless absolutely necessary). The Straight-Jackets have served me well, but it was time to hang them up for good. I first saw the Oakley Monster Dogs while in Canada ( $-Priced way too high) I looked again in a So.Cal. Sporting goods store, also way too high, then I found your site. I love the glasses they traveled with me to Mammoth last month, and I love your site. I will definitely be back for more visits & purchases.
Oakley Polaroized Monster Dog Sunglasses
These Oakleys are the best pair I've had by far. The frames are well made and and very stlyish. They are a little bigger and different from the regular Oakleys. What I mean is they cover more of your eyes which gives you better protection and safety. Whether you go camping, fishing, skiing, the beach or just love to play sports and stay active outside these are the best.
great gear. great fit . great quality.
Monster Dog Sunglasses - Polarized
Got my sunglasses delivered on time, thanks. The sunglasses rock!! The design looks a little bit different from my friend's Monster Dog, but the fit is great and so is the design.
I have never really been into thick sunglasses before, usually opting for Spy Scoops or Straight Jackets, but I tried these on one day and loved them. I have the matte black ones and they look very stylish. The tint looks very dark, but it's just a tint, and it can be worn right down to dusk without impairing vision. As always, the optics are great and provide distortion-free viewing. I can finally lay my old SJ's to rest as I now have a new fav.
Oakley Monster Dog - Polarized
The glasses fit me better than any other Oakley that I have owned to date. I like having a larger viewing area, and these fit the bill. Overall, I am very happy with the purchase.
Oakley monster dog polarized sunglasses
My boyfriend loves em. He's always liked the Oakley designs, but all were too small. These work great!