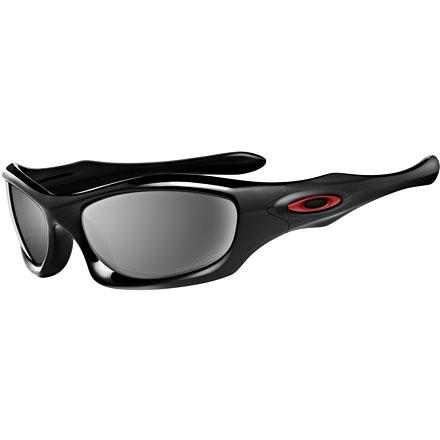 Oakley's Ducati Line has an aggressive design, and the Men's Ducati Monster Dog Sunglasses are no exception. These lightweight frames are some of the largest Oakley has ever made. Oakley knows that objects get distorted where lenses are most curved. They took care of this problem with their patented optics technology. The High Definition Optics technology maintains visual clarity at all angles of view—even at the sides—so your peripheral view is crystal clear and uninhibited. Oakley digitally sculptured the frame from lightweight O-Matter material for a seamless design. The Monster Dogs rock the Ducati logo—which adorns some of the world's fastest motorcycles—and are authenticated with metal Oakley accents in Ducati red.
Share your thoughts
What do you think of the
Oakley
Monster Dog Sunglasses - Ducati Collection
? Share a...
i need dark lenses where you cant see my...
i need dark lenses where you cant see my eyes any suggestions
A pair with fire or ice iridium lenses would probably be good or titanium lenses which are mirrored.
Great glasses for a fat head!
Awesome glasses for a person with a big head like me. No pressure at the temples and they look great. I have gotten several compliments on them.
Rating the Monster Dog Sunglasses
The "Monster Dog" not only have an outstanding look; also feels very comfortable and perfectly fit as well. Definitively it met my expectations. Needless to say that I am a satisfied and happy customer.
Thanks.
The Only Oakleys That Fit My Fat Head
Alright, alright... yeah, I got a big head. Huge, in fact. And before I clicked "Submit Order," I was already ready to have to return these for not fitting. I'd tried Oakley's other "big" shades, the Gascans, and they did not make the cut. But I loved the Ducati styling on these, and the hyper-agressive look, so I had to have them. And they fit my big 7 1/2 head. And they're cool as hell.