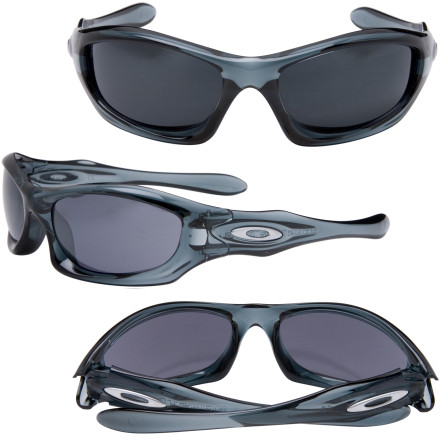 nice sunglasses
Gender:

Female

Familiarity:

I gave it as a gift but have feedback to share
I got these for my husband as a gift. He really loves them. They fit his face really well and he can also wear them for work.
I've got a big ol noggin with a big goofy face to accompany it, but these Monster Dogs do the trick to make it all look somewhat normal. Breathability is great during a workout in any condition and they give you great goggle-like protection without being the size of aviators. Biking, hiking, spring skiing... these are a must have.

Word has it they're good for bird hunting with Dick Cheney as well, BOOM.
Killer shades, thanks Backcountry. Great return policy
Fits me perfectlly. Just need to change the lenses into transition lenses
It's snug fit that causes the lenses to fog up. Not good when doing long term activity such as pistol match.
, ☃bcs_badge_alumni_label☃
Monster Madness!
Oakley's Monster Dog sunglasses are the largest jacket style sunglass Oakley makes. The Monster Dog offers excellent protection, comfort, and style with a thick O matter frame and true Oakley metal icons. Optical acuity remains full scale with a wide-screen peripheral view, so you'll always be able to see what's coming; and if it's a projectile, don't fret—these lenses can withstand a 12-gauge shotgun blast from 15 yards. Whew! At least your Oakley's will survive.
Nice but the shotgun blast took my ear off !
"withstand a shotgun blast from 15 yards"??????? Give me a F'N break! I dropped mine off my head and put a huge scratch in my lens. Yeah they are killer glasses but the lies to sell them are a real turn off. Just state the truth you chodes!
Great Service And product
Great glasses.and great coverage while maintaining full visibility. Very strong.

I was flying down the mountain at Keystone, CO. The guy in front turns right, so I turn left. He all of a sudden cuts left to stop and I clipped him and went tumbling. First time my head hits the snow I think "Sh*t, broke my Oaks." Second time my head hits the snow I'm hoping I didn't crack my dome...neither broke...it was a good day.
how would i know its the authentic Monster...
how would i know its the authentic Monster Dogglei hav one Matte finishat the left hand innermost has an engraved MONSTER DOGGLEthen at the right hand has an engraved made in u.s.a CE
These are authentic. Backcountry sells quality products, and wouldn't mess around with anything fake.
Chose the custom option through the Oakley website. These are good glasses for someone with a large cranium like me and have larger lens coverage so it looks better on larger faces. I wasn't a huge fan of the bulky wide arms because being so large they look like exactly what they are.....plastic. I'm not bothered by plastic frames it just seems that these almost look like there long lost poor Walmart cousins. These fit quite strange which bothers me a bit. The fit very well above the ear but are shaped a little too aggressively with an inward bend to keep the glasses in place. With the wide arms that I mentioned before this has tendency to leave very large pressure marks across the sides of your face. These glasses do allow you to wear a bluetooth headset over your ear quite comfortably. Now for my pet peeves, first the joints in the glasses squeak when operated. This started after a couple months of use. I notice a few weeks ago that both of my lens' were losing the "Iridium" coating in the center of the lens. These glasses are always stored and cleaned with the magical Oakley bag and I bought an additional hard case to store them in. I was shocked when I went to the website and learned a company like Oakley only warranted there glasses for a year and that didn't include the lens. I have wore Oakleys' for years and love the durability of there frames so just figured they stood behind there product. Buyer Beware!
Got these shades for my boyfriend for his birthday he loved them!!! HE WEARS THEM ALL THE TIME. Not only do they fit great and comfortable while staying in place whether he is outside just hangin out or riding on his Harley...he looks really HOT in them!!!!!! would buy again in a heartbeat!!!
These sunglasses are great for providing sun, wind, and dust protection for guys with big heads. They are large but stay in place while you are doing PT, shooting at the range or running missions downrange.
Monster Dogs are awesome shades
I too have a large noggin. These are the most comfortable shades I have owned. Many sunglasses will ride on top of your ears and make your ears sore. The arms on the Monster Dog wrap all they way behind my ears and actually hold on to my head with no pressure point above the ears. The amber lenses are perfect as well.
Sunglass salvation for big heads!
I now have ordered two pair of Monster Dogs and they fit my huge head perfectly. I am blessed with a size 7 3/4 noggin and believe me these glasses are by far the best fitting, most comfortable glasses I have ever owned. I use these glasses for every thing I do for both work and play. I am a firefighter and these glasses are approved as safety glasses for use in my department as well. Search no more my large headed friends. Monster Dog sunglasses are the perfect fit for your tater!
I ordered a pair of the Oakley Monster Dog sunglasses only to notice that the metal icon was missing from the left arm of the glasses. Someone either didn't check to see if the glasses were in shape to be sent, or just sent them anyway. Either way, not all that cool.
Waiting on the replacements, hoping they are in better shape than the first.
Costumer Service guy was nice though.
Great shades! Fit perfectly and look sweet!
Hey fellows!
I just wanna thank you for all the support that I had during the purchase in the web site. Really appreciate!!! Of course I became a Costumer, because it´s very easy and clear buying the stuff. 2 weeks later I got a Suunto watch from you!!! Everything was perfect again!!! Thanks again!!!!!
Best Business for you in 2007!!!!!!
These sunglasses are great. They fit well and they're lightweight and durable. A pair of Monster Dog's is well worth the money, and I would definitely buy them again.