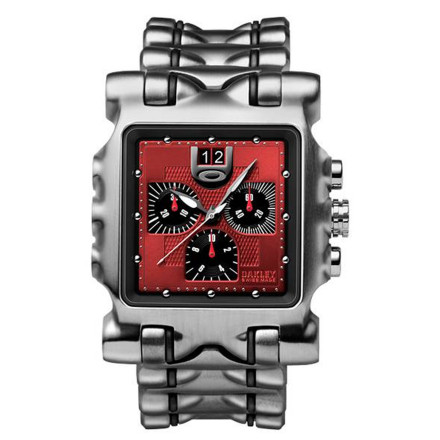 Detail Images

Community Images
Dave Hard At work In Buenos Aires!
Lunch During an Oakley Testing Trip.
This is a very cool piece. Has a stop watch which is part of the second hand. So the second hand(red) doesn't move unless using the stop watch. Instead the seconds are moving in one of the other clock faces. Not that I use it, but its there if you do. Date and Glow in the dark hands basically round it out besides the bomber case it comes in. Comes in a few different wrist bands, looks like rubber and leather are all thats left on here. Many people like the look and make comments all the time, kinda what watches should be about besides telling good time. Have had no problems with function or battery. The face is big and the crystal has not scratched, this watch is very durable! I have had many Oakley watches over the years and this one rivals the Time Bomb.
I'm a watch freak, mostly exotics so Oakley was a bit of a different choice. Ever since this watch came out I've like the look.... like a really high end, wide, bike chain or something like that. It looks pimp, tells the time etc.....whatever. It's wicked cool! That's the basic jist of this watch, wicked cool! Just like all the other reviews, it gets tons of compliments. Size is really nice and it seems bulletproof! If you have an extra kilo laying around it's a great watch to pick up!
This watch is amazing! Note: IT WIL BE NOTICED! The perfect watch for gear-heads, very masculine and adventurous. One of the coolest things about the watch is that you can adjust the "tank-tracks" yourself. All you need is a cycling /bike, Allen-Wrench set, no.2 bar, and presto! It has six-moving hands and runs off a sapphire crystal. This piece of art compares right there with the other well-known name brands, and for the price, it's a very solid investment. But the best thing about purchasing the Oakley Minute Machine was the attentiveness of B.C.'s Gear-Techs. THNX!!
I love my watch, it's amazing - everybody ask to me about it and they can't stop looking my Watch!!!
This watch is the most beautiful and elegant. Best price and great benefit.

The best, I'm very happy.
My Husband loves his gift! I got him the stainless steel tank. It looks GREAT!
First Rate Product--with one caveat
The Oakley Time Tank is exactly as it is described--an extremely solid, spectacularly attractive and precise watch. It comes with an extravagant storage container and instruction manual. One thing that I believe it is important to mention is that this is a rather large watch. It's not easy to tell from viewing photographs on various websites how large the watch actually is, so people with smaller hands and wrists might want to take this into consideration before placing an order. As an aside, this site's customer service and shipping were unbelievably efficient. I had actually had a lot of trouble ordering this particular item from other vendors (and even had waited for two months after placing an order elsewhere). I was continually told that the Time Tank had not been manufactured yet. But in fact it had been manufactured, and this site had it--I placed the order in the late evening and received it the next day. This blew my mind.