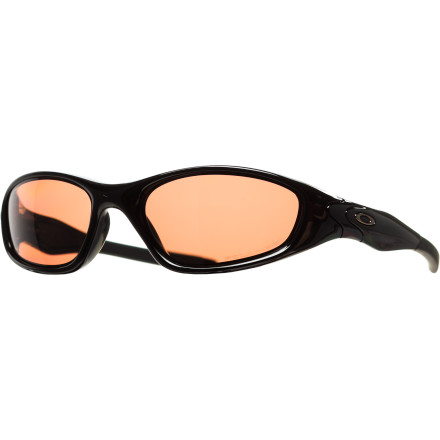 Oakley made the Minute 2.0 Polarized Sunglasses for active people with smaller faces. Polarized lenses fight the glare off the water or the trail. A hydrophobic treatment coats the Plutonite lenses, repelling rain, sweat, skin oils, and dust to keep your vision clear. In case of a flying rock or branch, the shatter-resistant lenses protect your eyes on the trail. The lightweight frames have fitted nose and arm pads so you won't have to worry about your shades sliding off and into the water.
What do you think about this product?
Have questions about this product?
I bought these for my wife, who is very sensitive to light, and she also jogs and needs glasses that will stay on her face. She loves these sunglasses, they fit her face perfectly, they stay on when she runs, and help her eyes.
Money Can't Buy Better Sunglasses
I just used these during training at the High Desert Ops Center in Nevada and these performed above and beyond what I could have expected. They are beautifully crafted and are of better quality than all of the past Oakleys I have owned. A++++
Can not find better sunglasses
These glasses are great. At first I was not to sure about them because of the mirrored lenses and sparkly frame, but other people have been saying they look great. Sunglasses always seen like a tough to buy for me. Usually I just want something that works great and protects my eyes, but then I end up getting something that other people say is pretty ugly. These not only look good, they protect my eyes better in the sun than any other sunglasses.

These do not come with a hard case, but I went to Big 5 and asked if they had one that would fit these. They ended up just giving me one.
These also fit well. I seem to have long eyelashes, but with these sunglasses my eyelashes never touch.
I have the black ones.