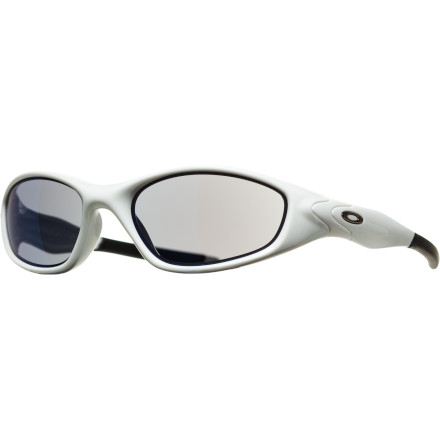 Oakley made the Minute 2.0 Sunglasses for active people with smaller faces. Oakley used their High Definition Optics technology to give the Minute 2.0's razor-sharp optical precision. The Plutonite lenses are coated with a treatment that repels rain, sweat, skin oils, and dust to keep your vision clear. In case of a flying rock or branch, the shatter-resistant lenses protect your eyes on the trail. The lightweight frames have fitted nose and arm pads so you won't have to worry about your shades sliding off.
Yep, I have a small face/head, and these sunglasses fit perfectly! I've always liked Oakley's lenses, and love how secure these feel on my face. I also appreciate how they can be pushed up onto my forehead for quickly running into a store without having to stick them all the way up on my head :)
Unanswered Question
Write your question here...I actually use...
Write your question here...I actually use a powered glasses. Can this sunglasses take inserts?
Amazing fit, stylish, and great optics--I love the Minute 2.0
I have owned three pairs of Oakley Minute sunglasses: because I have a small face, they are one of the few sunglasses that fit me well (and don't make me look like a bug). I finally lost my most recent pair of Minutes (after three years of use), and I learned that Backcountry.com had a new version.

Once I got the Minute 2.0, put them on my face, and found that they looked great (even better than the older Minutes), I was sold: they felt lighter and seemed stronger than ever, and the lenses lenses provide a remarkably clear view. I love the new Minute 2.0s and will likely buy several more pairs.

Thank you, Oakley, for updating a great pair of sunglasses, so that they are even better than the originals.

Here is the bottom line: If you have a small face/head and can't find a pair of glasses to fit and look good, these are the pair for you.

And you can NEVER go wrong when you shop at Backcountry.com, since they have the best (or close to the best) prices around and THE best service and return policies I have ever experienced.
I like these sunglasses a lot, but not quite as much as my 5s squared. The Minute 2.0's fit my face really well, I just don't like the look of them as much as the 5S's. What these glasses do really well, better than my 5S's is stay on my face. You could be playing volleyball at the beach, running, riding a roller coaster, just about anything, and these things will stay stuck on you.
They're heavier than my 5S's, but that's probably because of the rubber nose and ear pads, which add some extra comfort. All in all a great set of shades, especially if you prefer the rounded look.
are they small? i heard they are,i have a...
are they small? i heard they are,i have a 7 3/8 big ole'head,thanks!
Write your answer here...No I have a 7 3/4" Irish head and they fit me fine.
Yes, the Oakley Minute 2.0s are small: I have friends who have big heads, and they cannot wear my sunglasses--not that I'd let them anyway, since the 2.0s are always on my head.
I have both rose lens with white frame and Brown lens and brown frame. They are awesome. Light and very comfy. Highly recommended.
love them. nice rose lens on the white ones. you can see your eyes a little in the bright light, but they look great! very light and comfortable.
are the Oakley Minute 2.0 sunglasses...
are the Oakley Minute 2.0 sunglasses mirrored?
An easy way to tell if a Oakley sunglass lens is mirrored is to check for the word "iridium". Any lens with an iridium coating on it has the mirrored effect.
Bought black/ black iridium ones specifically to play Beach volleyball, Love those glasses! help with contrast and with the sun of course! dark enough for a direct sunlit beach.
I bought the Minute 2.0 black/ black iridium combo mostly out of impulse cause i thought they looked cool. I own two other pairs of Oakleys and this has to be my favorite. They unobtanium on the arms keeps the perfect snug fit without too much pressure. They sit close to your face but don't fog very often. Plus with the Black iridium no one can see your eyes so you look sweet and can stare indiscrimantly and no one will know. over all 5 stars for another winner from Oakley.