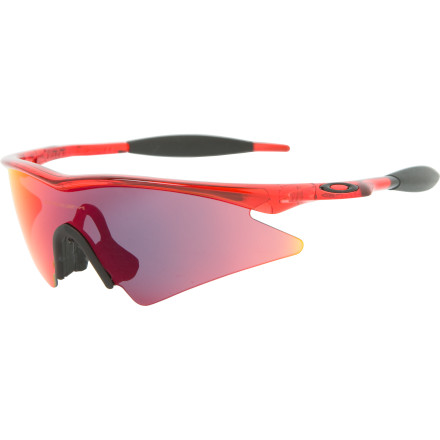 The M Frame Sweep is where Oakley really separated themselves from the sport sunglass masses. Deliciously curvy and classic, it was both organic and otherworldly. It turned the sports shield market on its head and everyone else had to race to catch up. Even though there are newer designs, the classic M Frame is still around and going strong, here with Iridium lenses.
The M Frame does a number of things really well. Their radically-curved single lens packages super protection in a minimal shape, offering incredible clarity. The three-point fit is both comfortable and firm. The arms stay out of the way of helmet straps without being obtrusive. The Sweep lens is a classic shape that works best on small to medium sized faces. The frame and hinged temple pieces are the usual light, sturdy, flexible O-Matter. The nosepieces and ear socks are Unobtanium rubber. This stuff gets stickier the more you sweat. And if it ever wears out, the Unobtanium pieces can be replaced.
The Oakley M Frame Sweep Iridium is available in two versions -- Crystal Red w/Positive Red Iridium lens and Polished White w/Jade Iridium lens. Positive Red is a high-contrast base with a mirror coating for sunny days; it allows 15% light transmission. Jade has a neutral green base with a mirror coating for sunny days; it allows 17% light transmission. You'll get a soft bag that doubles as a cleaning cloth. All M Frame lenses will fit in an M Frame.
O-Matter frame is stress-resistant and ultra-lightweight

XYZ Optics ensure distortion-free vision for the entire width of the lens

Plutonite lens exceeds ANSI 787.1 for impact-resistance and blocks 100% of UVA, UVB, and UVC light

Unobtainium hydrophillic nose and temple pads eliminate slipping

Patented three-point fit maintains optical alignment

Frames and lenses not produced to spec
Familiarity:

I've put it through the wringer

Fit:

Runs large
Lenses sometimes fall straight down and out of the frame when I am riding.

This happens when the frame is held in place by my helmet straps.

Oakley must have had a quality control problem at some point. You would be better off getting a product where lenses snap in tighter to frames.
This was the best pair of sports sunglasses I have ever owned. They stayed on my face did not jiggle around. I used them mainly for cycling, it was like not even having them on, except for the sun protection of course. Great glasses.
oakley m frames/ doing business with backcountry
I have an eye condition that requires full coverage, and glare-free lenses. These are perfect...and look great too.
this site is the BEST...knowledgeable rep, on time delivery, item as ordered. Do not hesitate if you are a first time customer, as I was.
Best high speed sunglasses
Let me preface this by saying that I have a large face. I tried a large variety of glasses, but on a steep downhill on my bike, my eyes were always tearing.
While I may not like the way they look, functionally they get the job done.
Oakley M Frame Sweep Sunglasses
Great deal and they also provide total coverage against the different glares that are reflected from the sun. Excellent pair of sunglasses.
My Highest Regard!
I've alway liked Oakley sunglasses and purchasing this pair of M Frame Sweep sunglasses is about the 4th pair of Oakley's I've owned. They provide maximum coverage of your eyes against the glare of the sun, fit comfortably on your face, and they look great too.Overall, too, I've been very pleased with the service I've received with BackcountryStore.Com. Great service, good selection, good prices.