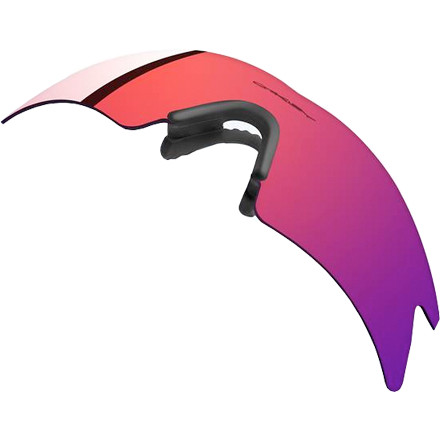 Detail Images
Oakley M Frame Sweep Replacement Lenses fit any M Frame (excluding Mag M Frames), and customize your sunglasses to changing light conditions (click sizing/info chart below for details). The Sweep is one of the smaller replacement M Frame lenses, and is best suited for medium to small faces.
Unanswered Question
Does is come with the nose pad?
Does is come with the nose pad?
Are the Oakley M Frame Sweep Replacement...
Are the Oakley M Frame Sweep Replacement Lenses oem from Oakley?
JJ,

I am assuming you are asking where we get some of our products from and whether they are authentic. We always get our product directly from the vendor source (in this case Oakley). You never have to worry about counterfeit or sub-quality goods when purchasing from any of our sites.



The Oakley M Frame Sweep Replacement Lenses are an Oakley product from Oakley.
Favorite Running/Riding Glasses
Familiarity:

I've put it through the wringer
I've had a pair of these for a few years, and was always trying out different lens styles (Strike, Heater, Hybrid S) but I prefer the Sweeps to all of the others. They give great peripheral protection, and still leave enough room around my cheeks that I cannot fog them up no matter how hard I am working. I've had clean, grey, Iridium and persimmon and I have to say my favorite is the Persimmon. I ride to work slightly before the sun comes up, and return home during daylight or night hours, and this is the only lens I've used that works in all those conditions. Even though it is easy to change the lenses out I never can remember to carry a replacement, and as long as I have the persimmon I am happy.
Hi, How do you replace M lens? Is...
Hi,

How do you replace M lens? Is there a special tool required?

Thanks
Inisewa
When looking at the frames as if worn on someone else you just put downward pressure on the top, where the side-most extent of the lens is and then in the opposite direction (up) push up on the frame right where the temple connects. The hinging motion almost always pulls the frame away from the lens without a problem for me. Some of the M frames have that hole in the middle of the lens that then clicks into an additional clip. I guess that's additionally security. I don't know whether that's an old feature or a new feature. I have both.
can anyone describe to me the color of the...
can anyone describe to me the color of the Black Iridium. Is it a see through lense, or is it a "mirror" type of lense. I have the standard black lense on mine now...just wanted some that were more of a "mirror" look with the lense.
, ☃bcs_badge_alumni_label☃
Its mirrored. No see through.
Specifically, a very dark lens, a dark mirrored 'black'...very, very cool!
I live in Alaska. Many days are overcast. The G-30's are perfect for those conditions, as well as, full sunshine. I use them everyday, for playing golf and especially when I am riding my Harley FatBoy.
I just brought some sunglass with the...
I just brought some sunglass with the lenses, in Aug, and they have his name at the bottom left side, and they now have a scratch on them, how much will it cost me to replaces these lenses, with his name put back on them?Nicole
You would have to contact Oakley for that, the customized Oakley products are only available through Oakley.
so whats the diffrence between polarized...
so whats the diffrence between polarized and iridium lenses

Well, a lens can actually have both. You can have iridium lenses that aren't polarized, and polarized lens's that also have an iridium coating. Polarized lenses block glare that is magnified by flat surfaces like water and pavement. So basically they eliminate glare, haze, and distortion. Adding an iridium coating helps to reduce even more glare and improve depth perception.
Oakley M Frames are one of the best options for Sporting Clays shooters. All M Frame lenses are supposed to be interchangable. They have a very large variety of colors for shooting in low, medium and bright conditions. Personally I like the fit and looks of these glasses. Would highly recommend Oakley M Frames - for Clay Shooting Sports.
I just bought M frame this week (8/07/08)I...
I just bought M frame this week (8/07/08)I am reading here that the lenses sold on this website dont fit ? DOes this mean they wont fit the new frames like the ones I bought, or the lenses sold here are updated and wont fit the older version of the M frames
What I did with the old non folding M frame is install the tips on each side of lens into the grove and the stretch the middle of the frame to include the rest of the lens and they snapped in fine.
Is there a huge difference between the...
Is there a huge difference between the grey color and the black iridium lenses?
On a bright cloudless day, you can tell the difference. I got the slate iridiums and they work fine as a multi-purpose lens for cycling in both bright and overcast conditions in Southern California. You probably won't need the black iridiums unless you're out all day in the desert. Once it starts getting overcast, the black iridiums start hiding things in the shadows.
Great Lenses for all day long in IRAQ
It will protect you from the sun and also you can used them at nigth. I love them. Thank for free shipping to APO AE to soldiers station in Iraq
quality good however did not fit my glasses.would purchase again from company
Oakley M Frame Clear Lenses
I finally got my act together and purchased clear lenses for my M-frames. I have not been disappointed. Pop them in for early morning rides when it still dark and my eyes are still protected. Great for cloudy days when there is no glare to contend with either! A must have addition for your M-Frames.
Sweep M Frame Replacement Lenses
QUICK SHIPPING, AND THE PRICE IS LOW. THANKS FOR EVERYTHING.
Oakley M Frame clear lenses
I bought my m frames about 2 months ago and they came with some dark lenses. I bought the clear lenses and between the two I could do just about everything!
Replacement Lenses - Oakley Sweep M Frame
Oakley made subtle changes to the Sweep M Frame replacement lenses, so these no longer fit in the older model M Frames. I had to use a Dremel tool to grind down the insert points of the lens to fit into my existing frame.