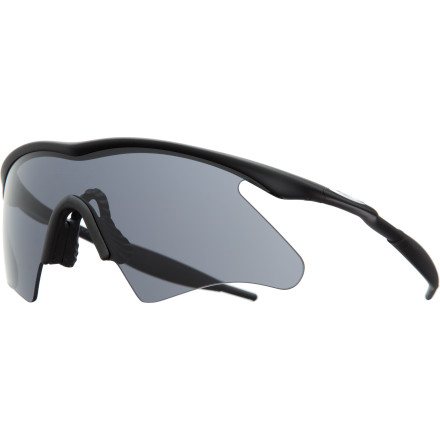 Unanswered Question
are these m frames no hinge and will they...
are these m frames no hinge and will they accept 3rd generation Polarized lenses of the the same style?


Unanswered Question
how big are the heater lenses like in...
how big are the heater lenses like in inches?
These by far have been the most dependable sunglasses I have ever purchased. I have taken them kayaking in the waves at the beach in early to mid summer to snowboarding in Colorado in the winter. They get the job done and keep you looking great for whatever you might be doing.
great coverage that stays put
I've had a couple of generations of these, and they rock. My primary use is XC mountain biking, and they've never fallen off (not even close) under some very jarring conditions. The full wrap-around coverage resists the wind, and ensures that whatever you put your face through (bushes and tree branches are not uncommon) your eyes will be protected. It is not hard to scratch polycarbonate lenses, (regardless of brand) but it is really tough to break them. I trust these completely. I also suggest a clear lens so that you can ride after sundown and still have full eye protection.
Would these glasses be good for baseball...
Would these glasses be good for baseball players like to wear in the field.
Yeah almost definitely. They hold to your head very well, so you can run and dive without fear of losing them.
Best Answer
I had a pair of these glasses in high school. I played baseball for 12 years and had these glasses for 2 of those years. Wish I had had them all 12.
Get polarized lenses, if possible; particularly good is the black iridium/polarized for really bright days. Grey iridium for partly cloudy days. Go to www.oakley.com, and there is a page where you can view the different lenses available, in simulated outdoor environments!

Hope this still can help your future purchase!
Oakley has poor customer service
Oakley's sunglasses are nice but a little too overpricey. I had been a Oakley customer for a long time until now. I bought three Oakley sunglasses. The coats on the second sunglasses were flaking off and I guess it was from the sweat which I didn't clean off. The third had a crack on the upper lens that was concealed in the frame. Oakley would not replace it because my warranty expired but they offered a $40 evaluation fee. Rip off! I'm not happy about this. The quality of their products is poor. I think Oakley is too arrogant and greedy!
Oakley sunglasses are cool looking but a bit over pricey. I had been a long time Oakley customer since the 1990s. I had three Oakley sunglasses, all M frame. The coat on the second one was flaking off. The third one had crack on the upper lens which was concealed inside the frame. Oakley refused to replace the lens because my warranty expired, but they offered a $40 evaluation fee to replace which I think is a rip off. Why should I pay more for their defective sunglasses? They don't care about their customers, they just want more money. I had to pay for shipping cost to send the defective sunglasses over to Oakley, and they don't care. I'm not happy with Oakley anymore. They have grown too arrogant and greedy. Their products are usually of poor quality. I'm going to try other sunglasses like Bolle or Nike. They're good too. I heard lots of people like Nike's customer service.
My goto glasses for any action sport. The've got great coverage and are comfortable. Interchangeable lenses are always a plus.
My husband had a pair and lost them. They...
My husband had a pair and lost them. They were 5 yrs old. We've been looking and cannot find the same pair. Are these large. He has a "fat" face and all the others we've come accross look too small on his face?
These are the biggest Oakleys that I am aware of. I used to own a pair of M Frame Sweeps, and remember not wanting the M Frame Heater because they looked huge on me. So if these don't work, I don't know what will.
Best cycling shades available
Nothing blocks the wind like these guys.
are these the folding M frames?
are these the folding M frames?
If you mean the earpieces, yes. If you mean the bridge of the nose, no.
from where can i buy a hard case with the...
from where can i buy a hard case with the extra couloured lenses
You can purchase them separately on this site. Your two options are the Oakley Soft Box sunglass case (35 bucks) or the harder Oakley M-Frame Array Case. You can buy the replacement lenses in many different colors, shapes, and vented/non-vented. I have both cases, and prefer the Soft Box - but to each his own.
i have a m frame model but i have broke...
i have a m frame model but i have broke one of hear holder! can i got spare part?
Oakley customer service would be the best place to ask around for spare parts.http://oakley.com/customer_service/warranty_policy1.800.403.7449
Great for everything from cycling to climbing stay on and give great protection. Don't fit my headset for flying but they are not even designed to so im not complaining. Love the product
I got my father the Oakley M Frame sunglasses for Father's Day, & he loves them. I looked everywhere for these glasses and no one else had them. The website was easy to navigate through and they have great prices. Thanks!
Ever since I saw the Damn Yankees last rock video, I knew I had to have a pair of these. My first pair was called "Blades", which is a tuffer name, but these look just as tuff. I always get compliments on them at our softball games or down at the dirt track. My girl likes them so much I got her a pair, too.