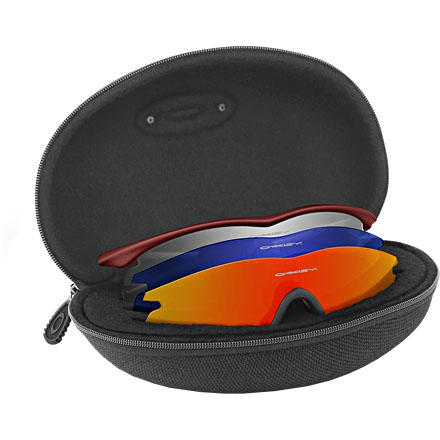 I have Ralph Lauren sunglasses that need...
I have Ralph Lauren sunglasses that need a descent size case plus the ability tosnap/hook in onto belt . will this case be able to do that? Thanks, Ken
I don't think this is going to do what you want. It doesn't have a way to attach to a belt and has foam slits for the different lenses, not just one big opening, if that makes sense.
Ken, why do you want a holder to connect to your belt? That is kind of weird. But no, this sunglass case is really big and it does not have the capabilities of snapping to your belt. This case is rather large as well, but keeps Oakley Razors very nice.
If you have an M-frame or Radar (this case fits both) and somehow dont have the case, you should get this. I dont worry about my shades at all in this case, and it holds 2 extra lenses which is nice for different conditions. you can even fit the cleaning bag in there too if you want to! highly recommended.
Listed as the case for the M frame, but also great for the Radar series. Can fit a cloth bag inside and an extra nose piece. Great for trips.
Its all fun and games until u smash a $100.00 plus pair of sunglasses due to your own stupidity. Been there-done that!!! Im on my second pair of Ms, and when they are not on my skull they are in this case! Great protection and spare lense storage. Albiet, Oakley should supply these instead of sleeves for all their eyeware.