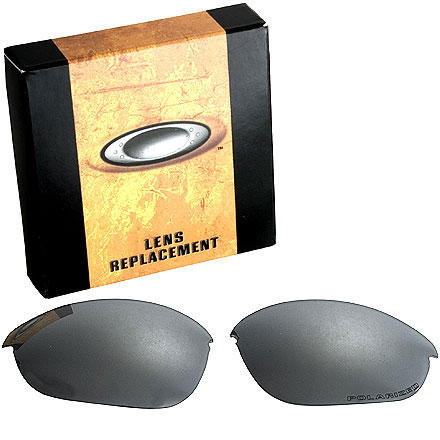 This special edition Oakley Radar commemorates the Livestrong fight against cancer. We offer the Radar in a variety of styles. While this one has classic styling thanks to its simple black frame with nuanced "Livestrong Yellow" detail, what sets it apart in the Radar family is the fact that Oakley donates $20 to the Lance Armstrong Foundation for every set of Livestrong Radars sold.
The Livestrong Radar comes with Black Iridium lenses. Black Iridium is a superb choice for the spring and summertime. It transmits only 10% of the available light to your eyes, also making it ideal for bright, sunny days. The great thing about Oakley Iridium lenses is that the Iridium coating creates a uniform filtering layer that optimizes contrast and reduces glare. It's a central reason why Oakley optics are so special in comparison to any other brand glasses.
The lens is large in a modern, high-fashion way without being too big -- a design Oakley calls the "Path" lens. We prefer the Path lens because we believe it is large enough to protect the eyes while being small enough so it doesn't overheat the head and seal the eyes off from the world. One other vital detail is that the lens is hydrophobic with a new oleophobic coating for better vision. Sweat won't streak your lens and muddy up your field of view. Rather these coatings cause moisture to run off the lens with no residue.
The frame is made from Oakley O-Matter. There is soft Unobtanium at the temple ends and the nose to better grip the face. Unobtanium is slightly hydrophilic, so it will grip better when wet and sweaty. The lens is made from Plutonite and has Oakley's famed High Definition Optics (HDO). The Radar comes with a zipper case that has room for a spare lens and a microfiber bag that is both a lens cleaning cloth and soft storage.
I like sunglasses but can never find the right pair. Usually they do not stay on or I can feel them on my face or have an obstructed view when looking up, down, and side to side. But with these I have none of that. The grip on the arms hold these bad boys in place and they do not move at all. The rap around lense gives you coverage on all sides. What I like to is that using these on a sunny day on the snow I can use them while doing photography and all my pictures come out the way that I set them up.
Unanswered Question
I need a replacement lens for these glasses...
I need a replacement lens for these glasses and I want to make sure that it says LIVESTRONG on the replacement lens. Does anyone know where I can get a replacement lens?
These sunglasses are amazing! Extremely comfy, great looks, even when you sweat the glasses won`t move at all. You will forget you are wearing glasses, the lens does a great job blocking road dirty as well as the suns damaging UV rays. Get them!!
can these glasses be purchased with...
can these glasses be purchased with prescription lenses...
Best Answer
Many Oakleys can be purchased with prescription lenses, but it usually needs to be through a prescription dealer (and not backcountry.com). Here is where you can find which ones are available in prescription (and I don't think that the Livestrong Radar Path is on this list):
http://www.oakley.com/search/men+prescription+sunglasses
Will these fit a medium to large sized...
Will these fit a medium to large sized face?
, ☃bcs_badge_alumni_label☃
Yes that is the size they are made for.
Write your question here...My nosepiece...
Write your question here...My nosepiece is warn out and needs to be replaced. Where can I get a replacement?
You can either contact Oakley or take them to a eyeglass shop that sells Oakley, and they can grab you a new saddle.
I have been cycling with Smith sunglasses for years and was not happy with the fact that they often kept sliding down my nose when I started to sweat a lot. The Smiths are also polarized so I could never properly see my Cateye computer screen. I was skeptical about trying non-polarized glasses because polarized are so good at cutting down glare, but these Oakleys are fantastic. I have no problem with glare, can see my computer perfectly, and they do not move or slip at all no matter how much you sweat. And I am in Naples, Florida, so I get to deal with glare and sweat all year round. You will not believe how these hug your head until you have actually worn them. And with this site's return policy, you have nothing to lose. I chose the Livestrong version over the stock Radar because my wife is a cancer survivor and we basically use every opportunity possible to support the search for a cure. So the $20.00 that goes to Livestrong is just a nice gesture on top of the fact that these are awesome glasses.