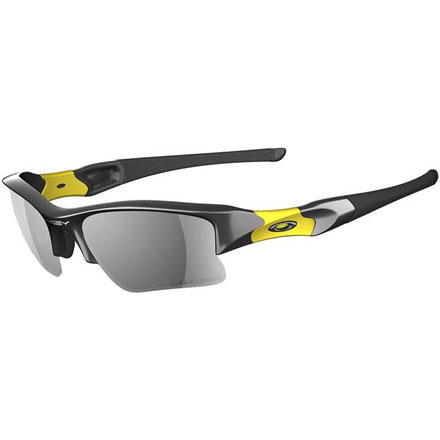 Videos
There are few places that Oakley's legendary Flak Jackets haven't gone. From the tops of the Col du Tourmalet to the produce aisle at the local organic grocer, they balance a perfect blend of top-level competitive sportiness and everyday wearability, making them both ubiquitous and hugely versatile. Here, we have the limited edition Livestrong Flak Jacket XLJ, which offer slightly deeper and wider lens coverage than the standard Flaks, along with the reassurance of knowing you're helping contribute to an organization dedicated to funding the research that will someday defeat cancer.
Flak Jackets are an especially great choice for cyclists because, like Oakley's Radar, their frame design doesn't inhibit your peripheral vision. The Flak's O-Matter polymer frame is all-but-weightless, and like all Oakleys, they utilize a three-point fit, which contacts you only at the bridge of your nose and behind your temples at the sides of your head. This keeps the optics in perfect alignment and eliminates the discomfort you get from frames that hook around your ears and mount with unbalanced pressure points. The earstems are sheathed in Unobtanium, an Oakley innovation that increases grip as your sweat, to further ensure the comfort and security of the frame fit. And O-Matter frames have amazing durability not only for the abuse of packing and unpacking them from your backpack, but for impact-resistance in case you crash.
While the wrapped lens of the Flak Jacket XLJ optimizes peripheral vision and protection, such extreme contours can often cause optical distortion (called refraction) due to the bending of light. Oakley utilizes its HDO (High-Definition Optics) technology in the Flak Jacket to prevent refraction by achieving precise orientation between lens curvature and the human eye. This creates clarity at all angles of view, even along the periphery of the lens. The lens itself is made from Plutonite to provide you with superior comfort, clarity, and protection against impact and ultraviolet radiation. Plutonite blocks 100% of all UVA, UVB, UVC and harmful blue light.
The Black frames feature a subtle bit of 'Livestrong Yellow' along the earstems, and they come with a Black Iridium lens — a superb choice for the spring and summertime. It transmits only 10% of the available light to your eyes, also making it ideal for bright, sunny days. The great thing about Oakley Iridium lenses is that the Iridium coating creates a uniform filtering layer that optimizes contrast and reduces glare. It's what makes Oakley optics markedly superior to any other glasses out there.