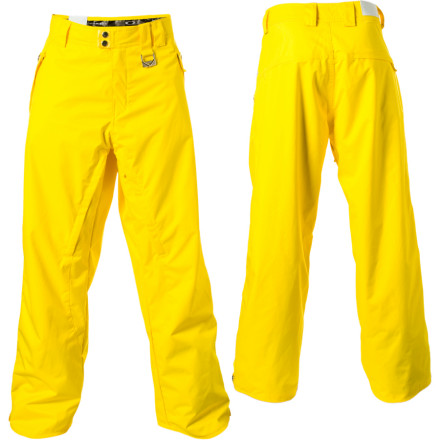 Detail Images
Roll off your floor-level mattress and slide your legs into the waterproof breathable Oakley Karn Pant without waking up your other six roommates and having to wait for them to head to the lifts. Despite your gin-induced hangover, you make it out for fourth chair while this fully seam taped shell pant guards your layered legs from the weather as you sip coffee and watch the lifties clear the ten inches of fresh off each chair.
Laminated polyester fabric keeps out the snow once you start making deep, delicious turns and breathes as your legs heat up
Inseam vents draw in cool air when the sun comes out and you need a breeze in your pants
Hidden snaps attach a powder skirt so you can seal out all the snow even when you ragdoll after a surprise twenty footer
Boot gaiters prevent the snow from creeping up your legs as you surf it
Adjustable waist tabs and waist band keep the Karn on your hips so you don't moon the crowd on the lift after a fall in the park
Great, except for no waistband adjustment
I got these this winter for my first try at snowboarding. I figured I would spend a lot of time on my back on the snow, so decided on a bright colour rather than the all-white gear that I usually wear when skiing.

I have two pairs of Oakley Enlist for skiing, with velcro adjustable waisband, in XL size, and have been happy with them. The Karn is advertised as having an adjustable waisband so even though I've dropped 5kg since 1 Jan, I went with the XL size again.

Bad news! the Karn does NOT have an adjustable waisband, and being snowboard gear, it is on the baggy side. XL is probably about a 42" waist, so I needed a belt. A brand new yellow karate belt (my son's, 150cm size) that I had lying around turned out to be exactly the right width, length and even *colour* to suit!

Legs are long, baggy and loose, plenty of mobility, and vented on the inner thigh for cooling. Pockets are well placed and sized. Stiching is strong and well finished.
Move over Burton Cargo Pant, there's a new king of sub $200 dollar pants. I can't believe how affordable these are, the material is thick and quality, and even has a nice lining. They are plenty weatherproof, just like you would expect. They fit great, nice and roomy so you don't have to size up to be comfortable.....and they're oakley!!

The only con is the pockets: there's only 3, and of those 3 the 2 front pockets are impossible to zip up while you're wearing them...so I just leave em closed and never open them because they're so hard to work with.

That doesn't even warrant a star being taken off though because for the price you could buy a second pair, go to a tailor and have him add as many pockets as you want with the material from the second pair...and then still have saved some money over more expensive pants!

Seriously a great deal, I'm excited to have a pair
Unanswered Question
Hi Is there any lining in this pants? Or...
Hi
Is there any lining in this pants? Or only the shell?
Just got these delivered today. They do not have adjustable waste tabs and only one back pocket. Keeping tham anyway, just FYI.