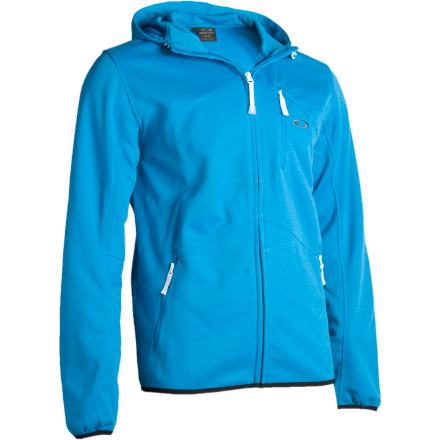 Detail Images
Love rocking a hoody in the park but hate turning into a walking refrigerator after a few bails? The Oakley Kappauf Full-Zip Hoody features a quick-drying poly fabric and DWR coating to let you rock the style you want without getting soaked.
The pictures make this look like a softshell. In fact it is a really high loft fleece. Which is not what I was looking for. Also, I doubt the DWR does anything at all.
Look awesome, not sure on the feel
I got this hoodie in the black and white with purple. I'm not gunna lie, it looks awesome and fits well. I am not so sure about some of the other parts of this hoodie though. The cuffs are not what I expected, they are like and elastic band sewn into the cuff, so the hoodie just kinda ends...would have preferred a more traditional style cuff. The material is DWR coated, which is nice, but it gives is a bit stiffer and itchier feel. That said, this is a thin hoodie. The material is kind of porous, so I don't know if would do much to keep out water (haven't tried it in the rain/snow yet). The material is thin too, it is not going to keep you very warm. I doubt I will ever use it skiing since the wind blows right through it.

Over all cool hoodie, it looks great, but just not as functional or as warm as I would have hoped for.