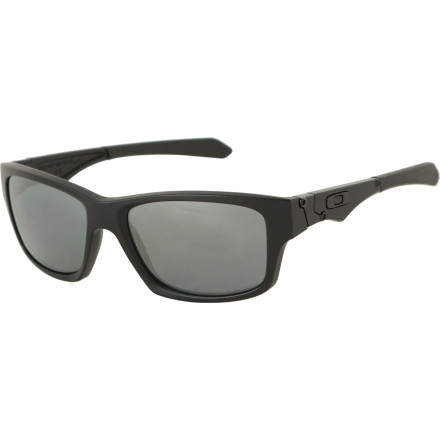 Detail Images

Videos
Description
The Federation is counting on you to be able to see and solve the problem.
When the sun's rays glance off the swirling gases of our solar system's biggest planet, you're going to want the polarized Oakley Jupiter Squared Sunglasses to block the glare so you can quickly repair the gas mine's propulsion system. Without the durable lenses blocking out 100% of the UV rays and minimizing glare, you wouldn't be able to see the problem and the whole mining platform would descend towards the planet's core and be crushed by its fantastic gravity.
Durable O Matter frame design fits into your space-walking helmet (among others) and won't break easily during a barrage of mini asteroids

The six base lens curvature geometry provides comfortable peripheral coverage

Three-point fit means that the nose and temples keep the shade secured where you get the best vision possible

Unobtainium temple grips increase grip during sweaty activities (like saving the mine from gravitational annihilation)

Unreal
Familiarity:

I've used it several times

Fit:

True to size
Best glasses on the market. The lens for these sunglasses are unreal. Spend the money and get polarized as I did and you will not be disappointed.


These are excellent sunglasses.
Familiarity:

I gave it as a gift but have feedback to share

Fit:

True to size
I bought these polarized sunglasses as a gift for my son and he likes them a lot. The fit is very good and they stay perfectly in place. My wife thought the lens color was somewhat pink when we were shopping for these, but the lens color is not even close to pink. I'm glad that I found these sunglasses on sale.
both lifestyle and active fit
Familiarity:

I've put it through the wringer

Fit:

True to size
I can wear these both around town and on the slopes / mountain bike. They're Oakley tough and fit my oval head well - although they're wide enough that they don't fit a curved bill ball hat that well. They're not so wrap around that you get the total atheletic glasses look, but they don't let in debris / snow / air either. They are a great compromise.
Do these come with a case? If so, is it a...
Do these come with a case? If so, is it a hard or soft one?
I ordered these in a previous version - they only came with the static cloth bag.
I really like the look and feel of these...
I really like the look and feel of these sunglasses. I am trying to decide between polarized and non-polarized and noticed that they have different frame and lens combinations. If I like one of the combinations that is shown as being non-polarized, is there any way to get it in polarized form? Or is there any chance of more combinations being added in the future?
Unfortunately there is no lens swap so that won't be possible. As for other combos in the future, we do not have anything else on order at this time so unless Oakley makes other combos that we end up picking up, what you see above is what is available at this time and for the foreseeable future.
Oakley Jupiter Squared Polarized
I wanted sunglasses that would stick on my fact and feel light mountain biking, but still look like a human being when I roll into town. These are a great compromise of sport and casual. The price tag is quite high, but the lenses are definitely quality. If you can handle not losing your sunglasses I'd say these are worth it. I have a medium-large face I would say and these fit great. They're definitely a "medium" fit I would say.
Wearing prescription glasses can sometimes be a pain, especially when it's sunny and bright out. That's why I splurged and purchased these and had them fitted with my prescription.

Polarized lenses are the ONLY way to go, trust me on this one. With "regular" glasses, without polarization, your retina expands to adjust to the lower light levels of your shaded eyes, but what happens is that UVA and UVB wavelengths still penetrate the lenses and can harm your eyes, resulting in eye fatigue and in extreme cases, permanent damage. With the polarizing lenses, these wavelengths are diffused and blocked, allowing your eyes to actually relax. It's especially helpful around snow and water, where light reflection and refraction is prevalent.

Not only do these glasses look awesome, they're lightweight, durable and fit my oddly large face just perfectly. They fit your face snugly and don't let in much light from the sides either. I've actually been able to run in these and not have them slip or fall off. Overall, highly recommended and I will definitely purchase Oakley products again for my prescription sunglasses needs.
Sharp sunglasses!
Familiarity:

I've used it several times
These came in the mail a few weeks ago and they're the best sunglasses I've had. Spending the extra money for the polarized lenses is definately worth it. Everything is super clear and they fit great on my large head.



I'm super happy about the purchase and I don't leave the house without them.
Most Comfortable glasses ive worn. Love the color schemes as well that they make for this model! Would recommend to everyone!
These were my first pair of Oakley glasses and my first pair of polarized lenses. I can safely say that I have a hard time leaving the house without them.

Whether I'm driving on a long road trip, working outdoors, or just hanging out at the beach they've proven themselves. The polarized lenses offer depth and clarity that my bargain bin/gas station/free sunglasses can't touch. The rubber ear grips are comfortable, as was the glasses material on my nose, even in 100+ degree heat and sweat for multiple hours.

I tried an assortment of Jupiter Squared colors/styles at the Oakley store, but had not seen the wood grain color/pattern until the glasses arrived at my door. I was not disappointed. The color contrast of the wood grain is subtle but distinct and makes for a classy appearance.

I was sufficiently pleased with the purchase, and would definitely make the investment again in the future.
if you can only get one pair of sunnies this year
Dunno why anyone would want to settle for only a single pair, but if you absolutely had to, make it this one. Hard to not love the Jupiter Squared. The super-universal fit is just like the awesome Jupiter, except more of a modern, squared off profile because apparently retro androgynous sunnies don't cut it with the Oakley crowd. Polarized lenses and Unobtanium earsocks are a nice addition, making this piece a little more versatile than your typical lifestyle sunny.

* fun fact: the rivets on the arms are inspired by a pocket knife that one of the Oakley designers carried around
if you can only get one pair of sunnies this year
Dunno why anyone would want to settle for only a single pair, but if you absolutely had to, make it this one. Hard to not love the Jupiter Squared. The super-universal fit is just like the awesome Jupiter, except more of a modern, squared off profile because apparently retro androgynous sunnies don't cut it with the Oakley crowd. Polarized lenses and Unobtanium earsocks are a nice addition, making this piece a little more versatile than your typical lifestyle sunny.

* fun fact: the rivets on the arms are inspired by a pocket knife that one of the Oakley designers carried around