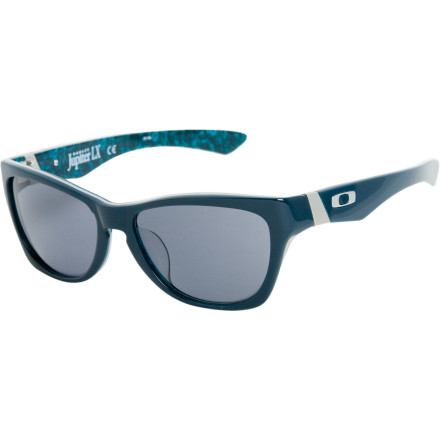 Detail Images

Community Images
If you dig Oakley's classic Frogskin Sunglasses, you'll double dig the Oakley Jupiter LX Sunglasses. Their shape is similar to the Frogs', but the Jupiters are slightly more wrapped for an active fit.
Acetate frame is lightweight and strong
High definition optic lenses enhance clarity
Sculpturally integrated hinges increase durability
Plutonite lenses filter out 100% of UV rays
Six base lens curvature widens your peripheral view and increases protection
Share your thoughts
What do you think of the
Oakley
Jupiter LX Sunglasses
? Share a...
Great hold on the face. Simple. Elegant. Classic look. Extremely durable. Dropped them down a rock face by accident and they didn't have any noticeable scratches.
I have a big head, and at first they were a little tight around the temples, but after I bent the arms a little bit they fit great. The optics are incredible in these. I got them off steepandcheap for the price they're selling now. They look super slick too, they have a great, classic look and they stay on your face pretty well too.
Good construction, bad sizing
Nice sunglasses, just be warned they are NOT for medium/large faces... defintely for small faces. Had to send them back, even though I really like the styling, if you have a small face they'd be good for you though
I like these glasses! They have that cool retro look of they Ray Ban Wayfarer without actually being the Wayfarers.

SIZING: Appears to be way off... My head is pretty small (I thought, since I wear a 7 1/8 hat?) but these are slightly tight. I could see this causing a problem for someone who actually has a large face.
how bout ya'll stick these up on the 'love'...
how bout ya'll stick these up on the 'love' for 30 and I grab em' thanks
These glasses are awesome the lenses are crisp and clean. They fit your face well and they all around rock. They have that retro feel and look great. I have a set of Ray Bans I like these better they are a little heavier and feel more solid like they won't fall apart.

Highly recommend snatch these babes up!
Unanswered Question
What does the Lx stand for?
What does the Lx stand for?
First of all the tortoise/cream color should only be for females. When mine arrived they seriously looked like something only my wife would wear. This color combo should say for women only. Also, the glasses don't wrap around you head as much as you would think, the frogskins are way better to me. Just my opinion.

The glasses felt very sturdy and well built but the fit and color was different than I anticipated. I hope this helps someone.

I give 3 stars b/c of lady like colors
I'm liking these a lot. The frames are smaller than I anticipated, so look to Electric or Von Zipper if you want something larger. Very comfortable modern take on a classic design.
nice for the big headed people
Just got these badboys in the mail, and theyre simply awesome. This is my fourth pair of oakleys, and l like that they hug your face but don't look so small, and that theyre badass!
Seriously, get your blues bros. DVD out and get these things!
Love them. They keep me company whether I'm on the way to work, the mountain, or the bar. Very similar to Ray Bans but with a little bit of Oakley flair. Fit my face, which I suppose is a medium, perfectly. Would highly recommend.
The best pair of glasses if you like the Frog Skin Look
These sunglasses work for both men and women. They are similar to the Ray Ban look, but this pair comes with more color choices. Also, the Jupiter does not fall off your head while you are playing sports like the Frog Skins do. If you are looking for this classic look and want it to withstand lots of movement, this is the pair for you.
are these bigger than the regular jupiters?...
are these bigger than the regular jupiters? After trying on a friends pair of (what I thought were) jupiters I bought a pair, but after wearing them for a bit they feel too small. I notice the face size is stated as large for the LX and small-medium for the jupiters..
You just kinda answered your own question. The LX is for larger faces.
Best Answer
No, the Jupiter and the Jupiter LX are the same exact size; the only difference is that the LX frame is made out of acetate while the regular Jupiter's frame is made out of O-matter. Also, the LX has metal hinges while the Regular Jupiter does not. The LX has a tighter fit due to the rigitity of the acetate material, however it is not different in size or shape.
Frogskins Update... Cool in its own right Woo!
I have been collecting Frogs since they were re released last year. That being said I had to check these out. This is basically frogskins meet performance with a dab of modern style. The frame looks similar to frogs from the front, but I noticed the lens are slightly less tall and wider. Also, the lens have a slight sphericalness to them. The other main difference here is the arms. They obviously much taller than frogs. I still found them comfortable but these felt a lot more like current oakleys on my face than that 80s cheap feel the frogs have.

Overall, they look kind of like Frogs, feel like modern oakley and in many ways shape their own spot in the Oakley line. In retrospective, I don't look at them as replacements for Frogs, but as a cool new frame to have in addition to frogs.