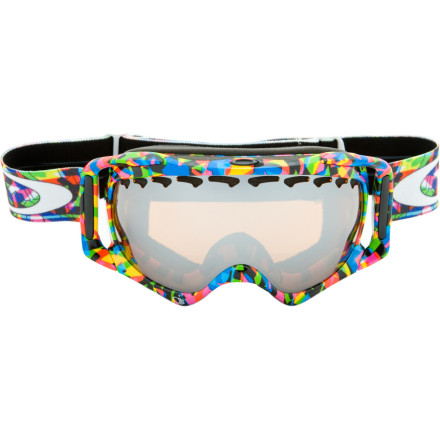 Detail Images
J.P. Auclair has his own Signature Oakley Crowbar Goggle, and it's sick. You do not. But you can wear his, and keep your hopes up for next year. The unsurpassed clarity of Oakley's XYZ Optics will help you spot those 40-foot landing zones, and triple-layer face foam will wick away the sweat while you shoot tons of sponsor-me footage. Just don't go spraying about how you're a colonel in the 'Newer' New Canadian Air Force, or J.P. may show up to smack you down.
Flexible O-Matter frame remains pliable in any temperature
F3 Anti-fog coating eliminates the steam-room cloud
Outrigger strap mounts distribute strap pressure evenly to the face with or without a helmet
Where can I find these goggles? I know they're several years old now, but I'd really like to get a pair. Thanks!!
Hey KSuth90! Thanks for your question.



We don't have any of these on order currently but I'm sure we will be ordering more when winter is near!




Works perfect
Gender:

Male

Familiarity:

I've used it several times
I love the look of these goggles and they work perfect. I have only seen one other person with these goggles at keystone.
I am really happy I got these, I wasn't sure if they'd be too big for my face (I'm a lady), but I don't think so. The colors are so sick, I love the graphics. I also ordered the fire iridium lense for sunny days. Can't wait to wear these this winter
I'd really like to get these goggles, but...
I'd really like to get these goggles, but I procrastinated and now there are only the black permisson lenses! I live in Colorado, will these still work out well for me?
Hey Alli,

There is only Black Iridium, not persimmon. It really depends on the light conditions for the day, not where you live necessarily. The Black Iridium is a good all around lens for varying light conditions.
Black Iridium is a lens for mainly sunny days. A Pink Iridium lens is a pretty good lens for all conditions. The permission lens is best for overcast.
Love these goggles. Do yourself a favour and skip out on buying the cheaper spy and smith goggles because they don't even come close in terms of fit, appearance, durability and optics. The colourway on this years JP Auclair crowbars is unreal, and these are without a doubt the best goggles i have ever owned. I would also highly suggest picking up an extra lens with them if you have the means. I bought the goggles with the black iridium lens for bright days and then bought a HI yellow lens for the foggy overcast days. If you don't wanna break the bank, I would recommend getting a set with the HI persimmon lens as they function reasonably well in all conditions. Get these goggles!
I got these goggles recently, and think they are incredible! No pinch on the nose, and has a rad graphic to it. I would suggest this to anyone who wants a good all around goggle.
my friends has these the graphics are so rad
I do not own the JP Auclair colorway for the crowbar goggles. But I do own the Oakley Crowbar goggles in many other colorways. These goggles have really good optics, better than anyone else in the industry. They also are really impact resistant and have a very high range of view. I really like how well they fit a wide variety of faces, and how well they mesh up with most helmets. The lens is really impact resistant, but is somewhat easily scratched, so be careful while cleaning them. These come in so many different colors as well as light transmission lens options that you cannot go wrong!