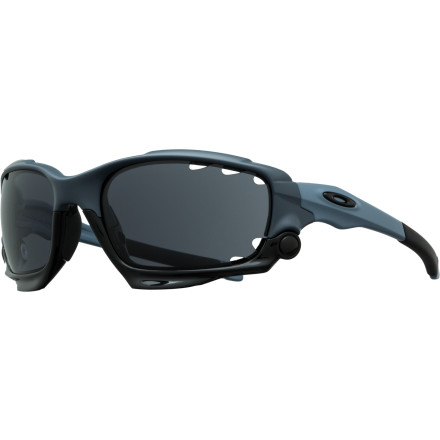 Detail Images
It's hard to explain, but there is something badass about Oakley Jawbone glasses. Not sure if it's the sculpted shape, the sharp angles, the metal hinge, the spoilers, or if it's everything working at once. The only way these can get badder is with Iridium. And here we have an interchangeable Iridium lens paired with the Jawbone frame.
Jawbone needs no introduction. It has succeeded Oakley's Radar as the go-to frame of top cyclists. The reasons are many, but the biggest two are optical clarity and comfort. Even though the Jawbone has interchangeable lenses, the clamping action of the frame doesn't exactly hold the lens. This is why the Jawbones do such a great job providing a distortion-free view. While the lens is retained within the frame, it's actually held in place by a soft liner inside the frame. It's a suspension system that allows the frame to flex a bit while the lenses stay in place without flexing and causing distortion.
Oakley has done an impressive job to work their sizing magic; these should sit well, comfortably, securely, and protectively on most faces.

The Oakley Jawbone Iridium is available in Atomic Orange w/Fire Iridium, Matte Black w/Black Iridium, Polished Sky Blue/Grey, and Retina Burn w/Black Iridium. Both Fire Iridium and Black Iridium have a dark grey base with a mirror coating on top. They're great for sunny days, but thanks to the neutral base they still work well in moderately bright conditions. All spare lenses and accessories are sold separately.
US Oakley dealers are prohibited from shipping anywhere outside the United States.
Share your thoughts
What do you think of the
Oakley
Jawbone Sunglasses
? Share a...
good
Familiarity:

I've used it once or twice and have initial impressions
love the jawbone glasses finally found some glasses that i like almost as much as the oakley romeo 1. but had to return cause the lava red is actually hot pink NOT RED....
90% satisfied
Familiarity:

I've put it through the wringer
Love the width/height of the lenses, so even with the frame I still have a ton of coverage. My old Natives are smaller and leave more areas where light comes in.

These fit well and are snug to my head; takes a bit of fiddling to get comfortable with a skullcap or winter hat when riding in the cold.

My only real gripe is that they do fog up easily. Not sure if it's b/c of the full frame trapping air or just how the size and my face shape work together. Definitely find that I have to take them off when climbing, and have to wipe them clean quite often.
Everyone I know swear by these glasses and how great they are. I was holding out for awhile but after seeing and hearing about them all the time I picked up a pair. They have lived up to the hype and more. I use them for road biking and will use them for mountain biking, ice climbing and pretty much anything outdoors. They fit really well, stay on my face and head with great grippers instead of tension (no headaches). Changing the lenses are a snap, literally.
Great Glasses for Cycling!
A number of the guys and gals in my cycling group sport the Jawbone glasses and loved them. I was torn between these and the Radar glasses so I went down to the nearest Oakley store and tried each of them on. I decided on the Jawbone, and here's why:

The Jawbone glasses have a lower lip that extends below the bottom frame and provides a little more eye protection. I've taken a small rock to the face on more than one ride and know how easily a rock can fly up under a lens. The Radars don't have any lower lip and leaves some room for a rock to potentially sneak through and hit your eye.

While I'm sure this is not a big deal to some people and the Radars are a great choice, the lower lip makes me feel warm and fuzzy.

It was a tough decision too because I like the fact that the Radars give you a little more visibility by not having the lower lip.

Also, Oakley uses a patented lens material they call "Plutonite" which is extremely durable. No rocks are going to be breaking through my lenses! After looking at the Oakley website, I learned that their Plutonite also provides exceptional visibility, which is important when going downhill at speeds over 50mph!

One other thing that I like about both pairs of Oakleys, but really like about the Jawbone, is the ease of changing lenses. I sweat a lot, thanks to my family DNA, and it's nice to quickly change my lenses at the group rendevous point without hassle. The Jawbones make changing my lenses easy enough to swap in less than 2 minutes.

Either way, I only use Oakley and wanted a good pair of glasses that I could count on for eye protection, great visibility, and general good looks!
I was wondering what kind of lenses the...
I was wondering what kind of lenses the additional pair you get are.
With the black pair you get the black iridium and a yellow. With the yellow you get a fire iridium and a clear. And with the orange color you get a fire iridium and the permission lens.
I love these glasses for cycling, or anything. I wear them on a day to day basis. I got the black ones with black iridium and yellow lens. The black iridium is good for about everything. Except really overcast days and nights. If you want a great pair of glasses. That you can interchange the lens with a ton of replacement lens that Oakley makes, get these. They never fog up, and can change the lens in about 30 seconds with the jawbone technology.
Is the extra nose piece a different size...
Is the extra nose piece a different size than the standard, or are they both the small version?
Best Answer
They are slightly different sizes so you can change them for the best fit.
Does backcountry still accept returns if...
Does backcountry still accept returns if these break?
Hi, im looking for oakley jawbone asianfit...
Hi, im looking for oakley jawbone asianfit sunglasses. i would like to know if you carry any of this stock? what model is available. thanks
Hey Jeff,

Realcyclist is a website under the parent website Backcountry.com...I recommend checking out BC as it will have a much larger selection of Oakley glasses.
Sunglass Choosing Tips from Brian Lopes
Lopes giving some things to think about before you buy a sunglass.
Will these fit on larger heads?
Will these fit on larger heads?
Best Answer
Yes they will.
damn good reason the peloton approves
After resisting an Oakley purchase for what has seemed like years now, I finally dropped coin on a pair of Jawbones because I've never liked the retro/aggro styling of a mono-lens, or the fit of most other dedicated "sport glasses." Granted, the Jawbones may not offer as wide a peripheral as the aforementioned, they make up for it with a "taller" frame, their superlight fit, their offering of a fair range of customization (frame colorways, nose pads, lens options, etc.), and by looking several thousand times more awesome. Not even robots have it this good.

* just a note on the lens venting - after riding with them for about a month in changing temperature and weather conditions, because the tops of the frames fit so closely to your forehead, I've noticed the lenses may still fog up if you come to a complete stop (only after a period of heavy exertion), or hop inside for a spell - but in both cases, it seemingly only happens after very drastic temperature change. Conversely though, the nice thing is that the fog dissipates much faster than a normal lens would, given the snug fit
* and yes, as pointed out in other reviews, the vents do let in light, but not enough to distract unless you're purposely focusing out of your periphery
I got these for cycling and they are great, the two lense options give some versatility. For running, they are average they tend to bounce on the bridge of my nose with every stride...could just be me. Also they tend to fog up pretty easily if it's cold (running only).
Does anyone have any experience running...
Does anyone have any experience running with these? I wonder if they'll bounce around at all, with the additional movement of running compared to cycling? I have worn Flak Jackets, and have tried on the Radar Paths, and they both just stick to your face evening when shaking your head around. Will these?
Best Answer
you have to try them on because of differences between face and nose shape, but when i tried them on, they were very light and seemed to stay put, but not as well as radars. i went with the radars for the big rubber nose piece and minimal weight, plus all lens, no frame.
for me, i liked the radars more and use them for all my trail running. even after 20-30k, i can't even feel them, and there is zero bouncing.
Works great, a few tiny issues
I have a pretty good complement of glasses. I own about 8 pairs of various Oakley glasses and 3 pairs of Smiths. On the sport end have the half-jacket and M Frames and the Smith V-Ti as well as the Smith Reactor Max. The Jawbone has great coverage and really hugs the face the way the frameless and half-frame glasses can't. The work really well and protect great. Optics are great, but I honestly think my eyes can't tell the difference between high-zoot Oakley lenses and lower-price but still high quality Smith optics.

Issues: As noted in most reviews, they tend to block your spedometer if its mounted on your stem or handlebar. I have mine on my aerobar extensions so its a non-issue for me. The vented lenses let in just enough unfiltered sunlight to be a bit distracting. Sometimes I notice, sometimes I don't. But obviously this is not an issue with full coverage lenses. The arms sit under your helmet straps, rather than over as I tended to wear all my other glasses. I imaging however that the straps will wear off the paint of the arms over time... and at $255 for the transitions version I bought... not looking forward to having scuffed up glasses.

I would love to give it a 5. It does a lot of things well. But if I have to be honest, Smith Optics do 95% of what Oakely does, comes with 3 lenses, a hard case (the Jawbone is the first sport glasses I have gotten that comes with a hardcase), and has a nut-job rock-solid lifetime warranty which I have used and love, but their glasses cost 1/2 as much. For that value aspect, it gets 4 starts. They are superior to Smith's but not $150 better.
Best Cycling Glasses- Hands Down.
The jawbones have amazing features, are lightweight and have many lens options making for fantastic road or mountain biking eyewear.

The fit is spot on, foggin is a non issue and lens swapping is a breeze.

A++++
Thanks Oakley for finally introducing a pair of glasses oriented specifically towards cycling.
These are replacing my half jackets which fit OK but had the convenience of interchangeable lenses. Now with the Jawbones I get the ability to change lenses (much better system) and a better eye coverage. Comes with two pair of nose pieces for those with a small nose bridge.

UPDATE: I exchanged these for the polarized version as I found the venting holes to be a major distraction in my peripheral vision. Thanks backcountry.com for such an awesome return policy.
Great Fit, Easy to Switch Lenses
I got my Oakley Jawbones in Matte Black/Black Iridium Vented-Yellow last week and they are awesome for Road and Mountain Biking - they fit my face very well (I have a med/large face) and it is super easy to change out the lenses. I have also had a few people around the office with smaller faces try them on and they fit their smaller faces very well too. I like the vented lenses - they keep your face cool without letting any wind into your eyes. Highly Recommended.
I've been watching the tour daily and have seen Cavendish, Hincapie and Armstrong wearing these, so had to give them a try. Hands down these are the best cycling glasses I've ever had. Surprisingly lightweight. The lens changing technology is flawless, making it easy to clean up after a long, sweaty ride - or simply swap lenses depending on conditions. Thinking that these will also be great for skate skiing once the snow arrives.