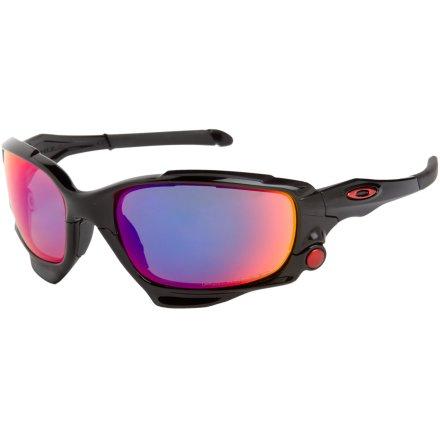 Detail Images

Community Images
Whether you're on guard detail out in some Middle Eastern version of Tatooine, or training for your next tri, the Oakley Polarized Jawbone Sunglasses give you Oakley-certified performance complete with SWITCHLOCK, Oakley's interchangeable lens system. O MATTER frames keep the Jawbone Sunglasses light and flexible and an Oakley HYDROPHOBIC lens coating repels dust, water, and finger smudges to prevent any corruption of your vision.
Great optics. I like how you can change the lenses on these but i much prefer the fast jacket because the lenses changes are better and they aren't so ugly! I haven't really found any sunglasses much uglier than this, but The great optics make them worth it. I would recommend the fast jackets over these, unless you want to look like some kind of insect. If the interchangeable option isn't mandatory for you, I would also suggest the radar blades.
best pair of oakleys i own
i have a number of oakelys and these are by far the best. the fit is amazing i am not a biker of any kind but these are great for anything to do in the sun. they are lighter and fit well they do not hurt the tops of your ears like some of the oakleys ( gascans ) ( fuelcells) you can wears these all day with out any problems
Are the extra lenses polarized also?
Are the extra lenses polarized also?
No the extra lenses aren't polarized. They are an amber lens good for low light high contrast riding. You definitely have the option of buying a polarized lens for this, so versatile its mind boggling!
I bought these shades after loosing my pair of spys. After getting my Jawbones I wish I would have lost them earlier. I use this all the time but bought them specifically for cycling. I would say my face size is on the small end of the medium category and have a hard time finding glasses that fit well. I normally buy Spy because the scoops tend to fit the best. But I like these WAY better. They fit my face and prevent the wind from drying out my contacts while riding. The interchangeable lens work amazing and allows me to quickly change to a lighter lens for early morning rides without having to tug them out and leave fingerprints all over them. I haven't had any problems with them fogging up. Awesome...and for that price they should be.
This is a photo that I took of BC teammate Jackie Paaso on our bike ride down the west coast last summer. I never used the shades, but she looks pretty fresh in them..
Are the White ones Polarized aswell?
Are the White ones Polarized aswell?
Best Answer
Yes, both of these colors are polarized. If you want to check out the non-polarized Jawbone, search OAK2380.
Are the White ones Polarized aswell?
Are the White ones Polarized aswell?
Best Answer
Yes, both of the models pictured here are polarized.
Hi people, I just have a question about...
Hi people, I just have a question about the Jawbones, are the suitable for skiing?
Last Wednesday I went to ski with my metal Ray-Ban, since I haven't got another sunglasses, and was looking to get the Jawbone in VR28 Black Iridium Polarized for skiing.
Another question is about the "VR28 Black Iridium Polarized", are those lens good for skiing?
Thank you very much.
Yes, as good as any non-goggle can be for skiing. I feel claustrophobic in googles, so I use my Jawbones, and they're great. Lightyears ahead of your metal RB's with glass lenses.
nice but not the best for me
I'm an avid cyclist and I used for the 20 last years Oakley sunglasses for all my trainings and races. I love the jawbones from a style standpoint and for the ease of change of the lenses, a matter of seconds. However, and this is maybe a personal comment linked to the shape of my face, they tend to slip down on my nose. Another complain is about the ventilation and they sometimes get foggy when climbing at low speed, despite the holes in the upper part of the lenses. Anyway, on this specific topic, they are not at the level of the M frames which (for me) are unmatchable
i have purchased sunglasses from backcountry and they where great, the shipping was on time and i plan i buying
more merchandise in the near future,Ti=his is a very good company to deal with.
Mike Langone
These replace my half jackets. In comparison, they provide more complete coverage and sit closer to my face. The hydrophobic coating is awesome too. Initially I had the non-polarized vented version however found the venting holes to be a distraction in my peripheral vision.
I wear these predominantly for cycling and are the best sunglasses I have ever owned.
The Jawbone Polarized - are hopefully the "do all" of sunglasses. I am an active cyclist, some what of a bad ass skier, and a mountaineer. The jawbones were perfect while I was on my bike for training and I bet they will preform while I am on Rainier for my expedition training, The fit is perfect. The glasses fit well against my slender long face, keeping my sight clean and blocking out the rays. I will definitely give a follow up review once both lenses are tested. Keep it real, Dave.
I road cycle and was looking for an upgrade to my M Frames. Tried the standard Radar, but they were not great when I was down on the bars. Tried a pair of Radar XL, but they are HUGE and the light red iridium was well to light for bright sun. Bought the new Jawbone Polarized with Red Iridium and they are fantastic. Highly recommended. Now I am waiting for the replacement lenses because they are easy to change. I want to swap the lens based on local conditions and Oakley has finally made it easy to do.