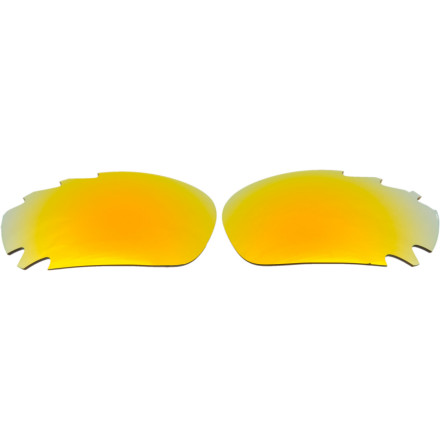 For high-performance, distortion-free sunglass lenses, Oakley is tough to beat. Oakley has become an industry leader with innovative design and revolutionary materials. From a sport-performance standpoint, the Jawbone is one of Oakley's most exciting designs yet. Switchlock technology in the Jawbone frame allows you to change lenses with no stress to the frame and hardly any contact with the lens. This means you can replace your current lenses with a Jawbone Replacement Kit for whichever tint is appropriate for the current lighting conditions.
At the heart of Oakley lens technology is Plutonite, a polycarbonate material that not only blocks all harmful UV-A, UV-B, UV-C, and harmful blue light up to 400nm, but also meets ANSI Z87.1 standards for high velocity and high mass impact resistance. The Jawbone replacement lens kit also gets High Definition Optics for distortion free optical clarity. Oakley's hydrophobic coating prevents moisture buildup, resists smudges, and repels contaminants.
Oakley Jawbone Replacement Lenses are available in Black/iridium/polarized for bright light, Clear for low light and night riding, Light Positive/iridium for flat light, and Clear/black/iridium/photochromic for varying light conditions.
GOOD stuff
Gender:

Male

Familiarity:

I've put it through the wringer
Purchased the G30 and Red Iridium polarized. Both are great and just make seeing an all around bette experience. Of the two though I find myself wearing the G30s more even though they are supposedly Golf specific. I just like the enhanced color it gives everything. This is going to sound stupid but they make the world look better, especially in the fall. One thing I do not like about Oakley lenses is that they scratch so easily. You have to always put them in their case and make sure the case is clean. 4 stars because of it.
Photochromic lens is a must have!
Once I moved to this lens every other lens I had went into retirement. Perfect for in and out of sunshine on mtn bike trails as the lens quickly adapts to exactly what you need. On the road its great for dusk/dawn rides where you always are stuck between the dark/clear dilemma.

Put simply, a must have!
I am considering the ice iridium lense as...
I am considering the ice iridium lense as the black lense which came with my black jawbones is too dark for driving. Would this be a good choice?
This is not to dark to drive
The ice would be a good choice for pretty much any driving conditions. If its overcast you could go with a permission or the yellow lenses.
From the Oakley site:

Ice Iridium allows 10% light transmission through lens. Protection index of '3'. 'Neutral'. Classed: for 'Extremely Bright' conditions; (similar to the Black Iridium, which I have, also a 10% light transmission...not good for overcast/dawn/dusk cycling or driving; but excellent for when it is sunny out!). Up here in the Great Lakes region, we don't have as many sunny days as other parts of the U.S., and the sun isn't AS strong as in the South or West, higher elevations. So, where you live in the world makes a difference in your eyewear needs, too. In SOME countries, some of the darker lenses are prohibited for driving, like the black iridium, for example. If you are traveling/driving overseas, check the paper that comes with your glasses; it'll tell if the particular lenses you've selected is prohibited in whichever country.



Go to: www. Oakley.com to "see" for yourself, the choices and detailed info. for each lens.

Hope this can help your future purchases.