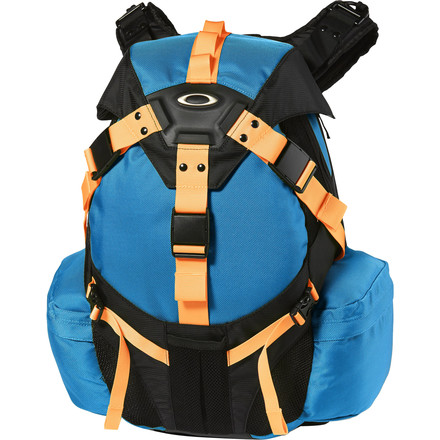 Colors

Detail Images

Videos
Description
Version 3.0 updates the bomber, multi-day, classic Icon Backpack.
Loaded to the brim with updated functions, the Oakley Icon Backpack 3.0 reaches legendary status. Protect your laptop in the side accessible padded sleeve when you need to carry your projects and gear out of the house. Stick your mobile phone in the shoulder strap pocket and forget about anxious moments trying to find your phone. Because you roll to a soundtrack Oakley added a media pocket with headphone port. An internal organizer keeps your smaller tools together and includes space for a PDA or GPS device, plus a mesh pocket for your shades. Stash a cap and your gloves in one of the side zip pockets, and when you get tired of carrying your load on your back, switch to the integrated strap handle.
The price for the bag is expensive for the quality of materials and design. The space in the bag is not very large. There should be more smaller compartment for a better organization.
Really Nice Pack
Familiarity:

I've used it several times
I think it's a little expensive but I do like all the features and so far no problems or issues with the pack.

I use it for work, my X1 carbon ThinkPad fits perfectly using the side pocket, larger laptop's will need to access the compartment from the inside.
I purchased this backpack for my son for middle school and it is great! They don't have lockers at his middle school so he has this huge binder that he needs and there is plenty of room for his binder, Chromebook, his lunch and water bottle. The backpack is light weight and very sturdy! I would highly recommend this back pack.
This package is included free delivery international shipping to bolivia?
Best Answer
Hi,

Unfortunately we cannot ship Oakley internationally. We can ship to Bolivia (at a separate charge), but not all brands. Here is a link to those restrictions:

http://sales.liveperson.net/hc/s-9551721/cmd/kbresource/kb-9165048676621225003/view_question!PAGETYPE?sc=120&sp=94&sf=101133&documentid=239527&action=view&VisitorProfile=BCS2&MESSAGEVAR!home=yes&MESSAGEVAR!cookie=no&MESSAGEVAR!docid=239527
This backpack is awesome! It's pretty lightweight and it looks great. I love that it has a place for your laptop. Wish I would've picked it up back when I was in school.
Amazing
Gender:

Female

Familiarity:

I've used it several times
I was a little hesitant in purchasing this bag, but I am extremely happy I did. It?s great, displaces the weight nicely and holds all of my stuff. The only thing I do not like is the unhooking of the three exterior front straps to get into the small front pocket. But besides that, it?s amazing. I would totally recommend it to a friend.
Awesome multipurpose backpack! Would recommend it too anyone in need of a backpack!
A far cry from the Icon 1.0
Quick Summary: The Icon 3.0 is of far inferior quality compared to the Icon 1.0

I received the Oakley Icon 1.0 backpack my freshman year of collge. It lasted me 4 solid years of rain on hikes, storing way too many clothes as a cary-on, and being packed with 50 pounds of migrane inducing texbooks. It finally started to break, but then gorilla tape patched it up and it kept on chucking.

I traded it in for it's grandson, the Icon 3.0 thinking that the two couldn't be too far apart in quality. Boy was I wrong, within 3 months the thing started falling apart, rips here, rips there, the shoulder straps twisting.

I recently traded it in for a North Face Hotshot which appears to be sturdier.
Love this bag. Its definitely a looker so keep an eye on it so no one snakes it. Side pockets are nice and full, can hold alot of goodies. The main compartment swallows anything I can stuff in there. Plenty of room for water bottles too. What can I say this is the perfect backpack plus it has room for a lap top. WOW
If you are looking for a pack you can use for everything, school, traveling, backpacking, etc. This is the pack you are looking for. It looks good and it works. This is a similar pack to what Oakley made about 8 years ago, but it's new design has all the new features you need.
good, huge bag, a few minor drawbacks
i was looking for as big of a bag as i could get, that also had a laptop sleeve (for school purposes). i used the north face jester for >5 years as a school backpack, but on too many field trips the bottom ripped out and it didn't have a laptop sleeve. at 52 liters, the icon 3.0 is definitely spacious enough. however, i feel like 3 things could be improved. 1) the front pocket is a bit exposed to the elements, having just a velcro closure. it's also a tad annoying to have to unbuckle the 3 straps to get to the front pocket (in my opinion, front pockets should be easily accessible). however, the 2 roomy side zipper pockets more or less make up for this defect. these 2 side pockets are great for your wallet, keys, gum, phone, but not really big enough for pens and a notepad. 2) the lumbar straps are a bit long and are a little uncomfortable when not in use, but this could be more an issue of my body size/frame (i'm pretty small, 5'3, 95 pounds, and htis is a huge bag). so that shouldnt be an issue for bigger and taller people. 3) the holes in the bottom of the main compartment are a good idea if you intend to use this bag for surfing or water sports and have a lot of wet things, but for books (especially books with dust jackets), the holes can do a little damage if youre not careful. however, the fabric is really strong and i think will hold up for many geologic field trips involving carrying sharp rocks, etc. a few pros: the digital device compartment sleeve on the top is really nice, it's like chamois lined and i can just stick my ipod in it without worrying about it getting totally scratched up. the 2 side zip pockets are great. the 2 water bottle pockets are OK, but you probably couldnt fit a 1 liter nalgene if the pack is filled to the brim (well, maybe, but i use siggs and those fit fine). the laptop sleeve is PERFECT if you have the smaller macbooks (12 inch). i can easily fit my 12 inch macbook in its incase neoprene sleeve in the laptop pocket, and the sidezip access is a bit tight, but works fine enough through security (a big plus so you dont have to open up your whole bag to extract your laptop). all in all, this bag is a big plus over the north face jester because it accommodates a laptop and it has a lot more space, but there are just a few minor things that dont make it the most ideal school backpack. however, i think it will be GREAT in the field, and i still use it everyday for school.
favorite back pack of all time!
My husband bought me this back pack and I thought he was crazy at the time. I absolutely love it! It is so useful for travel, very durable (I have had it for 5 years and it is still in great condition). I live over seas and travel a lot and this is my constant travel companion.
Great pockets for different things, passport, laptop or IPad, side pockets for quick access for meds, etc.
Large inner section. Place to slip your book on the outside. This is an amazing backpack!
17 inch laptop fits, but does not come out of side pocket due to being about 1-2 inches too big, so the pack must be opened to retrieve-it IS made for 15 inch easy access. 10% bigger overall would make it this pack the perfect size. Cool looking bag.
Best Backpack of all time
I am active duty military and have used this backpack for nearly 100% of my travels for the past 2 years. I routinely carry heavy gear in this bag, more so than most people. It's seen every type of terrain imaginable, it's been thrown around in aircraft and heavy duty vehicles and it's been carried by several different types of stinky hairy mammals and it's still going strong

Keep in mind this is a 50L backpack, yes it will hold more than other packs made for backpacking.

The right shoulder strap padding is beginning to wear down but everything else still functions as new

I have been issued other backpacks since getting this one but the Icon 3.0 is still my go-to bag
With the way flying is these days this is my pack of choice for the airplane or drive travel. It fits my 15inch mac, getting it out efficiently from the side zip works best if you slide up and then a slight turn to get the bottom of the computer out first. This is much harder to do if pack s stuffed though. Like all the different pockets to keep things organized for travel. Most of the time all the heavy things like electronics go in the backpack. The anatomical fit of the straps helps distribute the weight and the padded back is comfortable. Nice pack that will last you a while.
Would this backpack work well for school?...
Would this backpack work well for school? Or would it be too bulky.
Best Answer
This backpack can be used for school but i wouldnt recommend it. The mesh area can be torn easily as one of them started peeling off when one of the edge of my textbook got caught in it. This feels to me to be more of a travel backpack or something where you would put wet stuff in hence the drain hole and then the mesh that goes through the main pocket to air it out
When I got this bag I was stoked. It was rugged looking and had millions of pockets. And truth be told, it was the best backpack I've ever bought, but after just five months of toting binders and light textbooks, the seams began to blow out one by one. I contacted Oakley and since it was past their 90 day warranty, they couldn't do anything. It wouldn't have bugged me as much if I hadn't spent so much on it. I had anticipated that the bag would last at least a few years, but I was very very wrong.

Verdict: Go buy a North Face bag, at least they stand behind their products.
The back looks and works well, seems to be really rugged, will not fit a 15" wide screen lap top because it suspends the laptop above the bottom of the bag in its padded sleeve, great design, the first i have seen, it keeps your computer off the bottom of the bag so it wont hit anything if you set the backpack down to hard. it just wont fit a 15" laptop. any net book no problem. the front Velcro flaps are kind of weird but I'm sure they have their uses. all in all its worth the sale price
i really like this backpack. It as ample room and looks very nice. It feels great to wear. only downside is that the "computer compartment" does not fit my 15 mac book pro and i thought it was not open to the whole bag. I can fit whole lot of stuff in it! Little pricey but was paying for a sturdy bag and name.