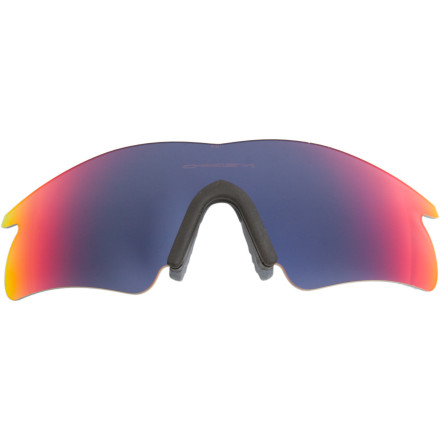 Oakley Hybrid S M Frame Replacement Lenses fit any M Frame (excluding Mag M Frames), and customize your sunglasses to changing light conditions (click sizing/info chart below for details). The Hybrid S is the smallest replacement M Frame lens Oakley makes, and is best suited for small faces. Available also in iridium [OAK0281].
Clear Lens for original M-frame
Familiarity:

I've put it through the wringer
I still had my Oakley M-frames for road and mountain biking, and I must say, I much prefer the clear lens I use now to any of the darker lenses. With both sports you hardly ever have full, bright sun directly in your eyes and the clear lenses work great when going from sun to shade on a mountain or road bike.
Remember the original M-frame?
Lens are great and a great price relative to our local Oakley store, but they didn't quite fit the old, original M-frames that I had which I broke trying to put them in. I went to our local store and was told that they could not be repaired and that Oakley did not sell just the frames, so to use these replacements I had to buy a new frame and lens set so replacement became a $200 proposition ($140 for new frame/Lens in addition to these replacements (see review response below that suggests customer service be called for replacement frames, I do not know if I would have gotten a different answer from them). Moral of the story: if you have the really old frames(original M Frames) these may not quite fit.
does this come with a kit or something to...
does this come with a kit or something to put them on the frame
, ☃bcs_badge_alumni_label☃
No. They just pop in and out of the frame pretty easily. No kit needed.
if someone already owns replacement lenses,...
if someone already owns replacement lenses, but the frames themselves have broken, is it possible to find replacement frames?
Call Oakley's telesales number (1 800 431 1439) and speak to a customer service rep regarding your problem. If you still have the broken frames you can send them in for repair or replacement for a nominal fee. Their customer service is outstanding.
Unanswered Question
which frames can be adapted to your...
which frames can be adapted to your prescription lens

Product is of good quality, but your images show lens to be a lot darker than the product actually is. This is a very,very light lens not suitable for sunny conditions.
My name is Sgt Michael Johnson and I am currently serving in Iraq for Operation Iraqi Freedom. During the winter months in Iraq it is very rainy and there are a lot of cloudy days. I ordered a pair of Hybrid SM Frame replacement lenses in persimmon color. The lenses are great for those gloomy days, it brightens everything up and protects your eyes at the same time.
makes sense for darker days
Great replacement lens for biking through the woods or on the roads on overcast days. It provides perfect protection against all the flying bits and pieces including huge bees and other insects that are trying to get into the corner of your eye. And you're getting enough vista on the ride!