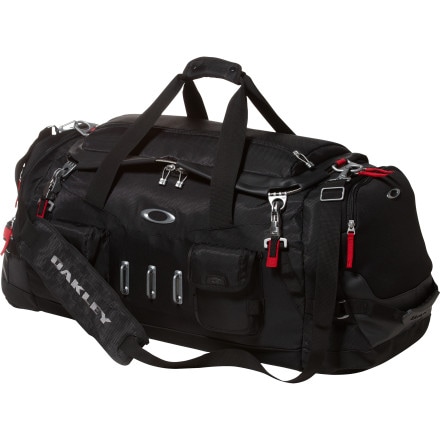 Description
Big and tough, this duffel is ready for action.
Even if your plans don't involve a hot tub, the Oakley Hot Tub Duffel Bag carries everything you need for work or play. High-capacity storage, 100 liters, lets you pack significantly more than the bare necessities, with plenty of room left over for the kitchen sink. You can fit numerous changes of clothes and shoes, in addition to books or files for work or gear for play, without needing gymnast-like agility to close this duffel.

Multiple pockets, inside and out, keep items secure and organized so in-air turbulence won't cause major packing disruptions, and hardy wheels let you smoothly maneuver through crowded train platforms or bustling city streets. The abrasion-resistant bottom withstands the bumps and bruises of traveling for many years of use. This Hot Tub duffel is tough enough for the cargo hold and versatile enough for a week in London, St. Moritz, or Joshua Tree National Park.
Interior organization
Abrasion-resistant bottom
Wheels with sure-grip tread, smooth-rolling bearings
Removable shoulder strap
Parachute closure clips