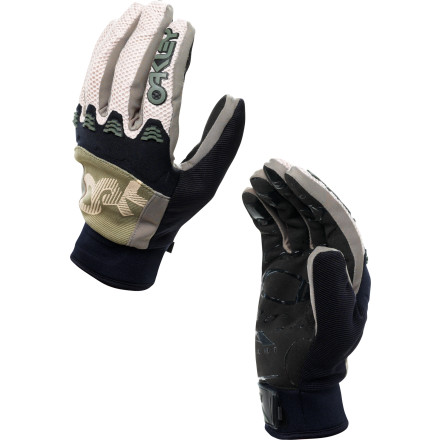 Detail Images
Show up to a spring park session or hike the pipe with the locals in those over-insulated gauntlet gloves and see how well you're received. OR you can get the low-profile Oakley Heritage Pipe Glove and at least pretend to fit in.
Oakley Heritage Pipe Glove Review
Familiarity:

I've used it several times

Fit:

True to size
These Oakley Heritage Pipe Glove are great gloves, I purchased them to use for jogging & biking in the fall weather. They work great, Oakley sizing chart was right on the money. The quality is great and fit perfect. The gloves work good with colloer morning temps in the fall.
Nice, but will it last?
Familiarity:

I've used it several times

Fit:

True to size
These gloves are sweet. They have super nice grips on the palm side, a snug fit on the wrists, are very comfortable, and fit, well, like a glove. They kept me warm to about 30 degrees. I would want a warmer glove for anything colder. They also do a pretty good job at keeping the wind out and giving mild warmth when wet. I also use mine to ride my bike around town on cold days - they are quite nice for that! My only quibble is that the top part on the fingers (the mesh material) started fraying pretty quick - Keep them away from velcro! If you can snag these for $20, I'd say it's worth it. I think if I'm nice to these gloves, I could probably get 1-2 years out of them.
Great pipe glove
Familiarity:

I've used it several times

Fit:

True to size
these gloves look and feel great, very true fit, As durable as any other park glove, do not expect the protection of a goretex'd glove for water getting in, these are premium for warmer days and should be used that way...of course hold grabs and hitting on objects while on runs will tear them up a bit, but just like any other pipe glove, they get damp but they are lightweight and dry easily...especially if put over the defrosters in the car on lunch breaks :) Great glove.
Nice glove for the price and purpose
Great for warmer dry days(20F +), especially if your hands don't tend to get cold. I can't feel any wind through these things despite how thin they are. Im skiing so I can't say much about sticking your hands in the snow all day but they never got wet after a few powder spills. The con is that the material frays with any rough use (grabbing edges, hitting branches and even velcro sticking to it). I cant see them lasting for more than a season or 2 of just warmer days but for the price they aren't that hard to replace. Special bonus: I can use my iphone without taking them off
Good glove but won't last long
I don't get cold hands very easily and normally wear a lightweight glove exclusively, so I'm fine in this glove down to around 15 degrees. If you get cold hands, this glove might be okay to 25 degrees or so. It has some lightweight insulation. My biggest complaint is durability. The fabric material started fraying heavily after the first used, and has only gotten worse. The fraying is occurring primarily on the sides of the forefingers, because when you are closing the velcro wrist straps, it locks onto your fingers and pulls on the fabric. I suspect that these gloves won't last much longer than a season or two, but they are definitely adequate for the price, and they are nice looking and comfortable. You don't get any uncomfortable inner seams that you would get with some spring gloves, which is nice.
these gloves are great. used them on a day when it was in the mid-twenties and my hands weren't cold at all. only downside was we were skiing in wet snow so they got soaked about halfway through the day.