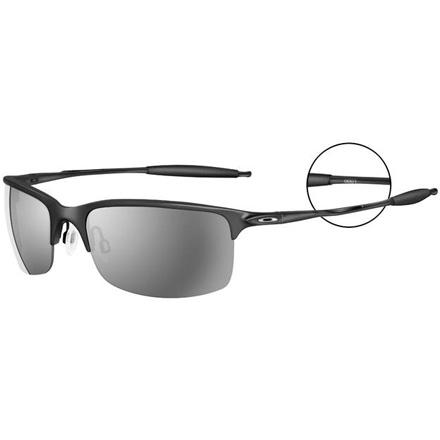 With open-edge lenses, the Oakley Men's Half Wire 2.0 Sunglasses eliminate the boxed-in-by-frames feeling when you look to the sides or down. Oakley made the Half Wire 2.0 Sunglasses frame with lightweight alloy and custom-engineered spring hinges so these shades feel super comfortable. Normal lenses have the tendency to bend light and make objects appear shifted, and to magnify and distort objects, but luckily Oakley uses High Definition Optics technology in their lenses, so things look clear and sharp. Sleeves on the temples of the Half Wired Sunglasses grip the sides of your face if you start to sweat, while the lenses filter out 100% of all UV rays.
Unanswered Question
How do I get a hinge spring
How do I get a hinge spring
I have loved these glasses....until they break. I've had 3 pairs of Half Wires, starting 4-5 yrs ago, but my most recent pair just broke again. Each pair I have had have all broken exactly the same....the hinge loses the spring action that allows them to flex and the ear piece falls off. I've had cheaper pair of glasses that never break and go through some serious abuse, but each pair of this that I have had (after 2 warranty replacements by Oakley) have been babied and not mistreated nor sat on. The occasional falling off of my head, due to forgetting they were there like others, but beyond that, they either are on my head or in the case. Maybe I've just been unlucky, but I am a bit leary of trying another pair of Oakley's for fear they'll break as well due to poor workmanship or cheap mechanics
Great glasses and durable
I got these glasses two years ago with my tax check. It was the best tax check I've ever spent. They are extremely durable and comfortable at the same time. I finally recieved my first scratch on the corner of my lens.( after two years of sustained use) I wear them riding, running, and casual. And to be honest I have lost count of how many times I've forgotten they were on my head until they hit the floor behind me.
Got them for a pretty rocking deal on Steep and Cheap. Replaced some similarly styled Ray-Bans from a mountain bike face plant.

I have a pretty average dome. Like the way they fit and looks are pretty nice. Like the frame a lot. The Ray-Bans I had seemed to have a cheesy frame. This one is burly feeling. (though it wont take the faceplant any better)

Only down-side is they are a tad heavy, so I am still finding myself adjusting the way they sit on my nose. Sweet shades though.
A little on the heavy side
I bought these when they first came out and I loved them. They were perfect for my smaller face and very stylish. The one thing I didn't like was how heavy they were. The pair I bought were the first year they made them so I'm not sure if they have been redesigned. Overall a great pair of glasses, just a little on the heavy side.
Yes oakley has a lot of technoldy that goes into their lenses to make them very durable. If you go to Oakley.com you can read up more on their lens technology
I got hit in the face with a line drive playing softball once while wearing these glasses. The glasses weren't damaged and I think they actually saved me from getting a pretty good black eye, if not worse.
Oakley backs their lens's up to a 100mph impact. Thats why the military uses oakley
How do I get replacement lens for this...
How do I get replacement lens for this product?
order it from oakley, or go into a sunglass hut.
I asked the same question direct to Oakley as I have some half wire 2.0 glasses. Here was their answer.

"The Half Wire 2.0 lenses are not available to purchase as an accessory, you would need to send your glasses to one of the listed addresses on our website; this can be accessed by following the link below:

http://uk.oakley.com/customer-care/warranty

• Your Oakley Eyewear is covered by a one year Warranty from the date of purchase.

• Scratched lenses and accidental damage are not covered under the warranty.

• We will quote for non-warranty repairs after inspection.

• Charges will vary depending on what the problem is and the age of the glasses.

• Please allow 20 working days from when we receive your item before chasing.

For all prescription warranty claims contact the Authorized Oakley Optical Dealer from which your purchase was made.

Kind Regards,

Jo | Customer Services"