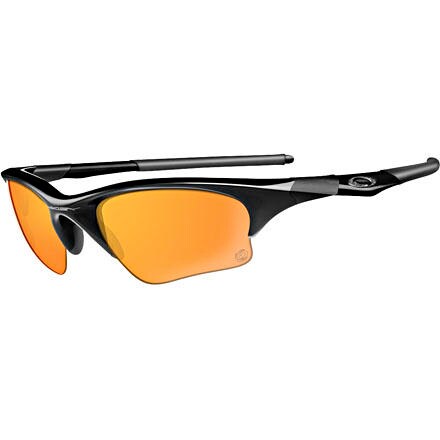 Description
The Oakley Half Jacket XLJ Sunglasses with large lenses change colors in different light conditions and provide more shade for your eyes than Oakley's standard Half Jackets.
The versatile Oakley Half Jacket XLJ Sunglasses Activated by Transitions offer large lenses for people with large faces or who want extra coverage. These lenses lighten and darken automatically, depending on light conditions. Whether you ride your bike at dawn, trail run in partly cloudy conditions, or stroll through the park under the noonday sun, these sunglasses transition, so they're neither too dark nor too light. The Half Jacket XLJ Sunglasses have an interchangeable lens system, so you can swap out lenses when you please. The lightweight, durable open-edge frame stays comfortable all day. Oakley's patented grippy arm and nose pads hold your glasses on your face as you bike, hike, or just enjoy the sun. *Additional lenses are sold separately.
Share your thoughts
What do you think of the
Oakley
Half Jacket XLJ Sunglasses Activated by Transitions
? Share a...
I drive sevral miles a day and would have to go home for the day if I had lost then
Posted on
Great Sunglasses!
I have had these for a year now. I use them while road cycling. Great for early morning or early evening rides. And also, here in Florida the weather changes rapidly, so it's nice to have one pair of glasses on that transition nicely according to brightness. Very comfortable. One negative is that the rubber nose gripper fell off. I'm trying to obtain another one; hopefully Oakley will provide one. Otherwise...a great find! Would highly recommend.
I have had the prescription version of these for around 2 years now and they make a huge difference to me. I only need one pair of glasses these days, I use them for everything. They are so comfortable on my very wide face that I often forget I have them on at all. The build quality is Oakley, so you know that they are all but bombproof. The lenses are very easy to switch out. The transitions part of them is good but they could go darker to be absolutely perfect. You would be horrified to know how much in Sterling I paid for them(Around $500) but they have been a bargain and I will certainly have another pair when the time comes. Absolutely recommended.