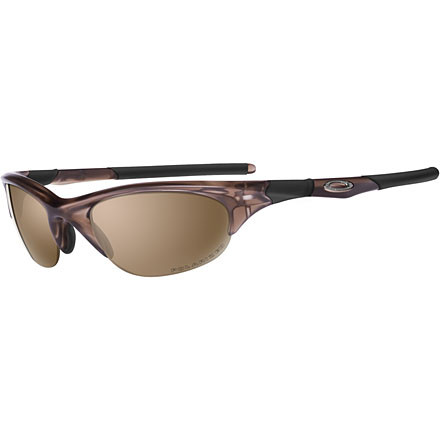 Detail Images

Community Images
The Oakley Half Jacket Polarized Sunglasses are Oakley's first dual-lens eyewear with interchangeable lenses. This chameleon lets you adapt instantly to any light condition. Polarized lenses cut horizontal glare out like no other lens can, making them perfect for boating, driving, and all water sports. When the sun fades, switch to a new set of lenses and change your entire outlook on life. Accented with true metal icons, the lightweight O Matter frame includes Unobtainium earsocks and grip anchors. The open-edge design extends your vertical field of vision, and each set of lenses retains the peripheral clarity of XYZ Optics. *Replacement lenses sold separately.
This my 1st polarized sunglasses.. Fit perfect to my face and so feel so great. Once you have okley polarized you never want go back to reg sunglasses. Worth for the money.
FAIL If eyewear does not bear an ANSI...
FAIL

If eyewear does not bear an ANSI Z87.1 or Z87.2 marking on the frame and lens, it is does NOT meet or exceed ANSI Z87.1-1989 or Z87.1-2003 standards, no questions asked.
Best Answer
"All Oakley Eyewear meets or exceeds ANSI Z87.1 standards for optical clarity and impact resistance."
http://www.oakley.com/customer_service/faq
Would these glasses be good for running...
Would these glasses be good for running in track and field?
, ☃bcs_badge_alumni_label☃
Sure. They are very form fitting and have a sleek design. Perfect for that activity.
Are these Z87 for safety?
Are these Z87 for safety?
No. These are not made to be used as safety glasses.
According the the website "Oakley premium eyewear passes this ANSI Z87.1 test"
Not sure which ones are considered "premium" but for the price, I'd think they all are.
Also look here to see video impact test. You can even select the frame/lens combo. It's pretty reassuring: http://oakley.com/innovation/optical_superiority/impact_protection
i bought the "asian fit" and use it primarily for running. it's snug, lightweight, and offers great protection. Have tried other Oakleys, but the fit provided by the Half Jackets seem to be the best.
Unanswered Question
how do you put the replacement lens in the...
how do you put the replacement lens in the frame?
Light weight and they look great!!!
Bought these for hiking. Light weight and snug fitting. They look awesome and the polarized lenses are fantastic. They are great outdoorsman glasses perfect for fishing, biking. Dont forget to buy the vault case for protection. you wont regret it!!!
This is a great sunglass for all the reasons people have stated - lightweight, stylish, and great for sports. If you have a larger mug, you might opt for the Flak jacket.
I have been a fan of Oakley's products since an original pair of M-frames many years ago. These glasses continue to perform as I expect from Oakley - great. Comfortable, good optics, light. The glasses stay on during all types of activity and remain comfortable during extended wear. I do not encounter any pressure points. My only issue, which slight, is that the lenses fog up a bit during heavy activity since they fit so tightly. But that is a minor issue and there are many instances (windy conditions) where this tight fit is an asset.

All in - a great set of shades for outdoor activity.
I wear these mountain biking and skiing. The larger nose pads that are included are great for those with smaller nose bridges. The Unobtanium rubber on the nose/arms have great grip on my head. Perfect sport shades.
Like They're Not Even There
Oakley outdoes themselves again with these perfect performers. Great for active sports. I sweat a LOT and these don't aggravate me like some sunglasses have in the past, by sitting on my sweaty cheekbones. You can barely tell they are there. They don't slip around either and I have a pretty small head. Great buy, and great deal on Oakley polarized sunglasses!
Will this frame fit a small face
Will this frame fit a small face
I have a small face and their snug but comfortable.
STORE COSTUMER SERVICE SHIPPING
I was impressed the security to buy online, how easy it was now that i am outside US. SUPER fast shipping, within 2 hours after purchase was made, costumer service is excelent. those glasses are same everywhere, seller is what it makes the difference, thanks
Been climbing in the VR28 Oakley lens for ever...problem is I broke both pair of my full metal jacket VR28s on climbing outing within a month of each other and had been climbing in these same two pair for years. Of course Oakley can't stand to keep a good thing going, so no more Full Metal Jacket which I prefer....worse thing was finding a reasonable small Oakley design with polarized lens that was any good for climbing. Most lens tints are way to dark and don't function well in corners and shade when on the rock. That VR28 was the ticket until I found these Amber Black Iridium. Tremendous contrast which is a must when climbing and scouting out the smallest of features. Cheers.
I've owned a lot of sunglasses, but these are the best, hands down. The lenses are exceptionally clear, and the polarization is outstanding. The sides won't slip from your head and actually get stickier as you sweat (no kidding!). Oakley makes them that way, and they work great for sports. Great glasses for hiking, running or everyday use. I use mine for everyday and sports, and they are very durable.
Love these glasses! They fit well, stick well, and best of all are polarized. I use these primarily out on the water with my crew team, and I wouldn't race in anything else. When it's 110 degrees and we're all sweating nothing else will stay on my face. These look great, feel great, block a ton of sun, and are definitely worth the money.
Super Specs; super flexible
These specs have all the versatility of the m-frames without the total jock-geek look (speaking as an m-frame'r). The clarity of the polarized lenses is unbelievable, as others have said. They're also comfortable. The half-jacket case, with room for additional lenses is a worth while purchase for protecting these puppies. If you really like using these, getting some extra lenses for low light (HI Persimon) or cloudy conditions (g30) is useful - especially if you're cycling and wear contacts, for instance. One recommendation: try on the XLJ and the regular lens shapes first to see which suits you better - smaller faces seem to do better with the regular lenses.
These are the greatest sunglasses I have ever owned. I love everything about them. I wear them running a lot and sweat has never dripped into my eyes when I've had these on. The polarization is a must for all conditions!
These glasses are great. The fit is extremely comfortable. The clarity is phenomenal. They make everything so clear. They do not slide down your nose as perspiration begins to build up. The best thing is you can buy other lenses for different light conditions.