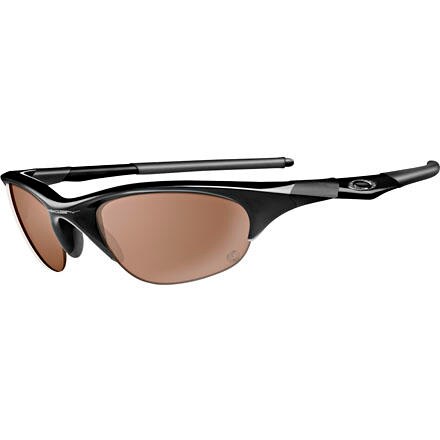 Description
Like a chameleon, the Oakley Half Jacket Sunglasses change colors to match light conditions.
The versatile Oakley Half Jacket Sunglasses Activated by Transitions feature lenses that lighten and darken automatically, depending on light conditions. Whether you trail run at dawn, mountain bike as clouds roll in, or stroll to lunch under the noonday sun, these sunglasses transition, so they're neither too dark nor too light. The Half Jacket Sunglasses also feature an interchangeable lens system, so you can swap out lenses when you please. The lightweight, durable open-edge frame feels comfortable all day. The grippy arm and nose pads mean your glasses stay on your face as you bike, hike, or just enjoy the sun. *Additional lenses are sold separately.
Share your thoughts
What do you think of the
Oakley
Half Jacket Sunglasses - Activated by Transitions
? Share a...
I have worn many sunglasses. These are the best for mountain biking, running, paddling...basically any activity. They are well worth the investment!
Posted on
I do a lot of biking in aero position (like...
I do a lot of biking in aero position (like for TT) -- arms lower than butt, so neck flexed as if you are looking up at the ceiling -- the frame on many glasses obscures vision in this position. And (second issue), when I stop at a traffic light, the glasses fog up (because my face is hot). How do these perform in such conditions?
Responded on
I run in them all the time and I've never had problems with vision or fogging. The only times they fog is if I stop running and look straight up, but once I start again, they clear right up. Even then, they only fog rarely. These are a great choice for biking and running.