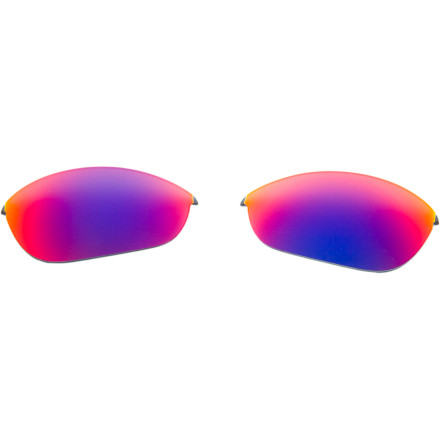 Detail Images
The Oakley Half Jacket Replacement Lenses for your Oakley Half Jacket sunglasses. As usual, XYZ Optics are in effect, refracting light in all the right ways to keep your vision true. **CLICK THE SIZING/INFO CHART BELOW FOR LENS TINT INFORMATION
Good product.
Familiarity:

I've used it several times
Does what it says. The polarized lens are fantastic when you are near water
Is this items for lens to fit oakley half...
Is this items for lens to fit oakley half jacket 2.0 frame? Please answer that.
Best Answer
No, these will not fit the half jacket 2.0. BC does not appear to carry replacement lenses for the 2.0 yet but you can find them on the Oakley website.
Has anyone had trouble with loose fitting...
Has anyone had trouble with loose fitting replacement lenses?
Yes. One of my lenses is loose. It falls out once a week. I put the old lenses back in to make it wasn't the frames and it was fine. Now the coating is starting to flake off as well.
So thankful for options!
Familiarity:

I've put it through the wringer

Fit:

True to size
I have the Ice, Fire, Black, G30, and photochromatic. I'm so thankful for options based on light. My favorite is low-light G30 - they were memorable running the Disney half marathon in Orlando when it hailed and snowed a few years back...
OK...someone else asked a question about...
OK...someone else asked a question about polorazied Oakley replacement lenses. I also am looking for the same. I need Half Jacket Fire Irridium Polarized replacement lenses. Do you have these in stock? If so...how much? If not, can you get them? Thanks...
Kathy, they do not sell the polarized replacement lenses here at the current time. I had to buy mine at Sunglass Hut.
Buy direct from Oakley. Their prices are usually on par with what everyone else sells their stuff for.
Are there any polarized lenses available...
Are there any polarized lenses available for the Half Jacket?
Currently none of the lenses listed here are polarized. They will be designated in the pull down menu if they add them.
Best Answer
If you are still looking they now have them available in polarized lenses. I just picked up a pair.
are the vr28 lenses polarized?
are the vr28 lenses polarized?
They would say it if they were, Oakley makes them in both polarized and non. A roughly $80+ price tag is a good indicator as well.
Unanswered Question
My half jackets need new lens but I got...
My half jackets need new lens but I got them in 2005 and I'm not sure if the current replacement lens would fit, they seem a big bigger, do you have the correct ones on black?
Unanswered Question
Write your question here...are these for...
Write your question here...are these for the original half
Received the lens' in prompt time and the item's are A+ Quality. Thanks, Rich.
Oakley replacement HI Yellow Lenses
Excellent, must-have lenses for the urban enthusiast! Great for filtering out glare from streetlights and cars when driving at night. Not recommended for extreme sun.
Half Jacket Replacement Lenses
Good product, easy-to-change lenses. Shipping a bit slow though--order faster shipping if you need something within 2 weeks.
VR28 and Persimmon lenses
I hike a lot in the evening, and I have found the Persimmon to be excellent in the woods and other low-light conditions. I noticed a good increase in contrast when walking on rocky terrain. The VR28's actually filter out a lot of light, and are perfect for sunny hiking/biking. I only use my black iridiums for driving or road cycling and other high-glare stuff. Lens changing is super easy. Much easier than the Smiths I had.
The ice iridium are great. They set off any color frames you wear them with, I give them a 10. They're a must have replacement.
I was going to buy new glasses. Instead I opted for just replacing the lenses. It was a good idea. The only drawback is that I had to physically go to an Oakley distributor to learn how to interchange the lenses.
Lenses are perfect. I bought the Black/Grey and White lense replacements.
Exactly what I needed and shipped fast. Will buy from again!
Excellent deal, excellent lenses
I purchased the 24K lenses for those days when I prefer the blue blocking aspects of the lense. These lenses are optically perfect. The coatings are tough and there are zero problems. The only issue is that the first couple of times you change the lenses it is difficult. Once you get the hang of it there are no problems. I highly recommend the 'armored' box case for these as you can literally drive over the case with your car and not hurt the glasses.
I'm very happy with my replacement lenses for my Oakley glasses. I've used them in cloudy/overcast weather and they definitely brighten up the view.
, ☃bcs_badge_alumni_label☃
Fire
Like the last reviewer said, the Fire lenses are a little bright for the highest intensity light conditions. My eyes got a little fatigued while driving thru the desert on a really sunny day--lots of reflection off the light colored sand and road meant a LOT of bright light. However, I threw on some of my older really nice brown lenses without the reflective mirror (they were Smith's, which are great too), and the light intensity was MUCH stronger without that reflective iridium coating! Great all around lens, I really like the Fire. Cool look too, of course.
The black iriduims are awesome!
The lenses that came with my half jackets (fire) were pretty good, but I wanted something that was a little truer to color as well as darker. The Black Iridium lenses have done the trick. They work great on just about any light, even reflecting light off of water. As a side note, these lenses make colors more rich especially the sky which made my trip to Arches NP even better.