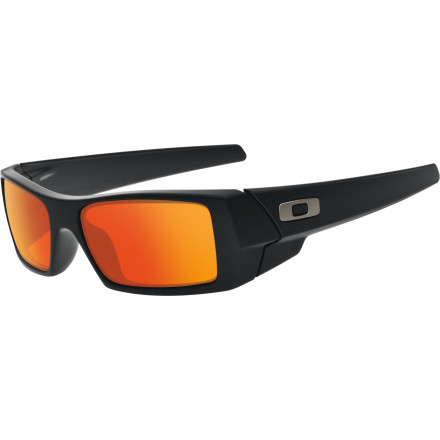 Detail Images

Community Images
The Oakley Gas Can sunglasses are built to stare down the competition. Tough, lightweight O Matter frames will take the abuse of rough days without flinching. Optically correct XYZ lenses ensure you'll stay focused on your opponents, thanks to perfectly clear peripheral vision that means nothing will catch you off-guard. The Gas Can exceeds ANSI standards for impact resistance, and the Plutonite lenses block all the harmful UV rays that could slow you down.
Southeastern US Sun Protection
Familiarity:

I've put it through the wringer

Fit:

Runs large
The sun is brutal in this part of the country during the summer and the Gas Can's hands down get the job done. The Emerald Iridium lenses look sharp and are fully mirrored with no transparency if that's the look you're going for.
My go to shades
Familiarity:

I've put it through the wringer

Fit:

True to size
I love these things. Anything Oakley I have is quality. I went with the black iridium frames that are a really cool looking color. I didn't buy polarized lenses, but they are still very quality. A nice grey tint that comes through very clear. Comfortable and attractive with solid construction.
They fit very similar to the fuel cells. They wrap to much for the straightness of the frame (vertically). It is out of proportion and is very slimming.
Look good. I have these in polarized Black Irridium. Very nice looking glasses. They're my dedicated hiking glasses and have been roughed up a bit over the years. Wish Oakley put rubber sleeves on the frames to limit slipping.
Great sunglasses and pretty durable as well. These have been some of my favorite shades and they can take a little abuse. Overall they have been amazing and the fit is perfect.
I love these sunglasses. I have always liked the look of the gascan. The lens is super clear, they are durable, and come with a nice soft bag that will keep them looking new. Gotta love the oakley quality!
I've had mine for a few years now, and have survived the rigors of my jobs as a fulltime firefighter and fulltime EMT, and my hobbies of climbing kayaking, snowboarding and cycling so l have to say these things are tough as nails.Trust me, best 90 bucks you'll ever spend
Good looks and ceverage for people who stand still and have medium or larger head
Well the gas cans looks alright and the optics are pretty dang tight. Love the hinges also. I think they sit a little high on the face and are best with those with larger cheek bones. These really don't fit tight my face and this is made even worse by the lack of temple grips. Really they fall off all the time. They are good shades to kick back and have a beer but you will need another pair of shades for doing anything active. Unless you have a large head I wouldn't even recommend fishing in these for fear of them dropping in the water, but boating, cycling, jogging, and any sport are pretty much out the question. There is a reason some of friends have lost a set of gascans.
Had these for about 4 years now, and they are still truckin'! Have a few scratches on the lenses, and the frames are kinda beat up but thats what makes them so great. They can take a lickin' and keep on tickin'! Great pair of sunglasses for anything from looking good to playing beach volleyball to fishing.
Great coverage & durability
I spent the last 5 months behind these shades fighting wildfire in Canada. I've got a fairly small face and they fit me well. I found the Black Iridium lenses to be great in nearly all light conditions, super sunny to overcast. Most importantly for me, they offer great eye protection and they are ANSI impact protection approved which means I can wear them on the fireline instead of lame safety glasses. The lenses are a bit scratched now, but, I feel like I got my $'s worth out of them, and I'm admittedly a bit hard on things. Frames still function great despite being stepped on, dropped, etc....
Gascan Review
Familiarity:

I've put it through the wringer
These are my go to Glasses , love these these things . Great Fit , dynamic Optics and stylish look. Being a Photographer and Outdoor guy it's important to protect your eyes.
are these gascans authentic or what
are these gascans authentic or what
, ☃bcs_badge_alumni_label☃
Of course. No replicas here!
Would these shades work well for running...
Would these shades work well for running and biking? Trying to find good sports shades but this style i really like
They lack any rubber on the nose and temple pieces, just like the Oakley Fives I have. I replaced my Oakleys with some Native Grinds, which are way WAY better. Large temple rubber patches to help grip your sweaty dome, rubber nose piece to stay up on your face, polarized interchangeable lenses, soft case, hard case, and one spare set of lenses. In addition, the styling is similar to the Gas Can/Oil Rigs.
Hi Salman,

If you dig the Gas Can style and want to stick with Oakley, check out the Oakley Scalpel - they have rubber nose and temple pads and are great for mtb action.
Write your question here...How do they...
Write your question here...How do they work for mountain bike riding?
hey D,

They would do just fine, I would recommend you use em' with Chums or something though just in case.
how much the shippment going here in...
how much the shippment going here in switzerland?
Hey butch,

There is no flat rate for international shipping. Unfortunately we are not allowed to ship Oakley internationally either. Visit this link to see the list of brands that are also unavailable for international shipment.

http://www.realcyclist.com/roadbike/help/210/Brands-We-Cannot-Ship-Outside-the-US.html
Upper Tier But Wanting More
I love Oakley. However the Gascan just isn't quite right. It fits funny on the face, the stems start to hurt after long periods of wearing (1.5 hour trip to the mountain) and they tend to fall off your face without any ear "hooks". However they are one of the most durable glasses I own, and I have a love for popping in lens's that fall out, or stems that break off. Lens quality wise, better can be found, but overall a great pair of glasses. If your looking for your first pair, these are a good stepping stone into premium branded glasses.
how reflective are the grey tint lenses?
how reflective are the grey tint lenses?
The Black Iridum Len's are pretty mirrored (can't see eyes behind the lens) The basic grey will not really show up mirrored, and although if you look at the right angle you can see a reflection, would not be considered mirrored. You can however see the wearers eyes through the basic grey slightly.
Any of the "iridium" lenses that Oakley offers are mirrored. They are available in many different 'shades' with the 'iridium coating. Add polarized to the iridium and you'll really be good to go. Check all the Oakley options on their website where you can see a simulate view of each one! Really cool.
are these really good glasses and will...
are these really good glasses and will they break very easily
Mine haven't had any issues with screws, in fact i don't believe there are any screws in the hinges to begin with. But these glasses are awesome and durable. i dropped them down a rock face with many little ledges, probably fell 20 ft and barely even scratched the polarized lenses and not a mark on the actual frames. I have the Matte Black frames though, i don't know how easily the other finishes will scratch.