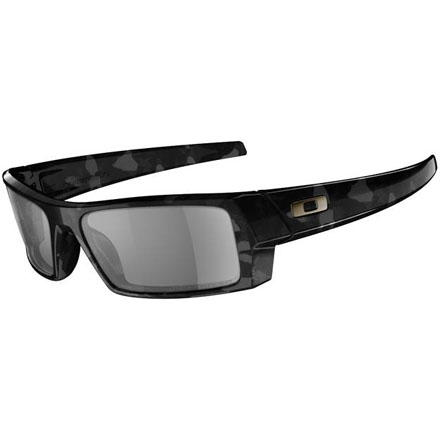 Oakley took the edgy, streetwise lines of the original Gas Can, and scaled them down to create the Gas Can Small Sunglasses. These shades' premium, glare-slaying polarized lenses reduce strain on your eyes when you're out running or riding in harsh sunshine. Oakley's unique polarization process combines with distortion-free XYZ optics to cut through harsh glare reflected off flat surfaces—like when you're out on the lake or just driving home from work. The Gascan frames are super durable thanks to Oakley's impact resistant O Matter material.
Good, but wanting more...
I love Oakley. However the Gascan just isn't quite right. It fits funny on the face, the stems start to hurt after long periods of wearing (1.5 hour trip to the mountain) and they tend to fall off your face without any ear "hooks". However they are one of the most durable glasses I own, and I have a love for popping in lens's that fall out, or stems that break off. Lens quality wise, better can be found, but overall a great pair of glasses. If your looking for your first pair, these are a good stepping stone into premium branded glasses.
Found them to be great for shielding from the sun rays. The reflective lens made them look like mirrors. Pretty Cool!
One draw back, which I will correct, they are very tight on my face. I need to go to Sunglass Hut and ask they make them wider. When I wear them a long time I get a headache from the tight fit.
I like that the sleeve that hold the glasses also clean the lens; makes it very conveinient.
The Oakley Gascan sunglasses are a thicker looking sunglass and they are sick! Not only are they high quality coming from Oakley but they also are some of the sickest looking sunglasses out there. Definitely recommend these to anyone looking to invest in some nice shades
, ☃bcs_badge_alumni_label☃
Best Damn Sunglasses HOSS ever owned
Polarized, comfortable, pimpin'! I get compliments all the time too.
These are some really cool looking sunglasses. Optics = supreme. I ended up sending the glasses back as they did not fit my face properly. The temples were really tight and the frame did not sit properly on my nose. If you have a really small face/head (toddler size), these are some bad ass shades. I exchanged the Gascan S for a pair of Crosshairs. Hopefully they will fit better.
The glasses is very good, its shape and fir are smaller and light. The polarized lens are the difference between the others. Excellent buy.
Don't get me wrong these are some solid glasses, but they don't fit your face as well as some other oakleys. The lenses aren't concave enough they sit just close enough that your eye lashes brush them, which drives me insane! But they definitely do their job, i would never go biking, or running with them, but they are good for driving, or chillin around town, they look good. In my opinion if you want something that looks good, is comfortable and you can do anything in, get a pair of polarized Canteen glasses.
Unanswered Question
How well do they work when you are driving...
How well do they work when you are driving in and out of full sunshine, and heavy shade?
The glasses look good, feel great, and fit really nicely with my smaller head size.