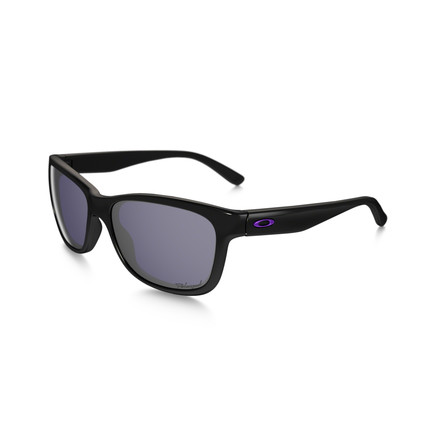 Videos
You know you're looking good on the sidelines in the Oakley Forehand Women's Polarized Sunglasses. But when you decide to get in on the action, they are equipped with polarized Plutonite lenses to reduce glare and Unobtanium ear and nose pads to your shades securely anchored to your face no matter what kind of activities you're getting yourself into.
Plutonite lenses filter out 100% of UV rays and provide crystal clear vision, and are polarized to reduce glare from snow, water, and other reflective surfaces
O Matter frame is lightweight and durable
Three-Point Fit keeps lenses precisely aligned for precise optics
Unobtanium earpads and nose pads are hydrophilic to ensure a secure, snug fit
Very Nice
Familiarity:

I've used it several times
I bought these for my fiance and they are very nice. One thing to note as of writing this review is Polished black version look like the ones in the video and not the image pictured. The image shows black frame with silver oakley logo and gray looking lenses. The actual ones are a black frame with a purple oakley logo and sort of purply polarized lenses. So if you get the black just watch the video and those are what you will get. My fiance loves these and they do a really good job at blocking out the sun. The only "gripe" she has about them is that you can see through the lenses very well, they aren't very dark and you can see her eyes when she has them on. Like i said before though even though they may not be very dark they do a great job at blocking out the sun.
Oakley Forehand Sunglasses - Polarized
I bought these for my wife and she loves them. I went with the brown sugar color which I was worried would be too plain but they have some really cool color sparkling in the frames that only really comes out when the sun is direct. Snug fit and polarized so they have been great for her hobbies - fishing, running, etc.
Not a better sun glass out there
A very flattering sun glass for a woman's face. I have numerous friends who wear these glasses and they look great on everyone. The fit is also very precise. I wear them to run as well as fish and do everything and they have never fallen off. No Croakies Needed! If your looking for a good fishing sun-glass for a woman these are what I'd recommend. The clarity is spectacular as well as the durability of the frames. the The lens is super durable. I'm not the easiest on my sunglasses and they have yet to be scratched