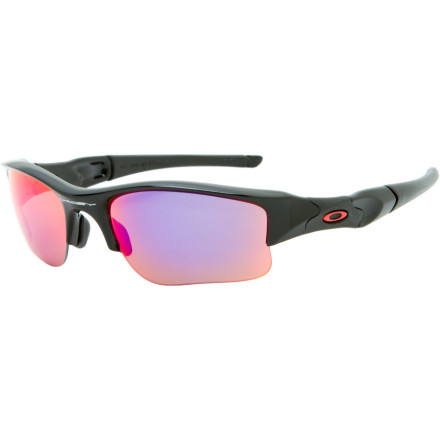 Detail Images
Slide the Oakley OO Polarized Flak Jacket XLJ Sunglasses around your double-XL melon and eclipse the competition, literally and figuratively. Oakley threw every bit of technology they have at the Flak Jacket XLJ, then turned the volume up to 11 to accommodate guys like you whose hard-working necks have taken on bucket duty.
OO is a unique polarizing filter that enhances contrast and color for increased depth perception and visual clarity

Hydrophobic coating resists smudging, sweat, and fogging

Shatterproof Plutonite lenses for protection

Polarizing filters reduce glare

Interchangeable Unobtanium nose pads for optimal fit

Frameless sides and bottom of lens means better peripheral and downward vision

What do you think about this product?
Have questions about this product?
I got my first pair of Flak Jackets as a door prize gift and loved them! They fit my face well and look good! I bought another pair a year later because my lenses got all scratched up from taking them through canyons. I would use the old pair for canyoneering and the new pair for driving and day use. They were so stylish that 2 of my friends also bought them! I will definitely buy another pair when the time comes to replace the ones I have now!
It's with good reason you can find the Flak Jacket in the peloton up on the Col du Tourmalet, as well as perched atop foreheads in the Whole Foods produce section. It's rare enough that a frame offers a universal fit and style (sporty, without being overly aggressive) with enough engineering to satisfy the needs of a pro cyclist just as much as a pro dog walker, but the Flak Jackets deliver. They don't feel overly sporty, nor do they underperform, ensuring they're never out of place in any activity - already an easy mainstay in my collection.

* while all Flak Jacket frames are the same size (with exception to the "asian fit"), the XLJ lenses feature a slightly wider lens profile
* granted, this is an interchangeable lens system, but it's much trickier than the PIVLock or Interlock systems from Smith, or the vastly superior Switchlock tech found in the Oakley Jawbones. Choose your lens option wisely. But luckily, outside of a clear lens, this Red/Irid in OO Polarized is quite possibly the only lens you'll find yourself ever reaching for.
no sizes....does that matter?
no sizes....does that matter?
Best Answer
Yeah, they only come in one size... but the Flak Jacket is of the larger frame style... Below is the measurements of the sunglasses:

Eye: 63
Bridge: 20
B: 39.1
ED: 65.4
Prescription Range: +2.00 to -3.00 with cylinder up to -3.00
PD Min: 30
I have a small head and they fit me fine and my wife has a larger head and she wears them with no problems.