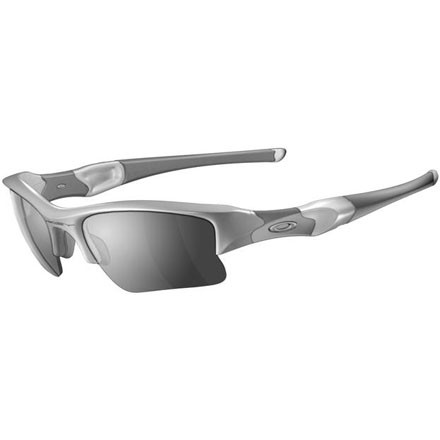 Detail Images

Videos

Community Images
Description
Pro athletes and weekend warriors alike deserve the eye protection of the Oakley XLJ Flak Jackets.
Angles. It's all about the angles. The Oakley Flak Jacket XLJ Iridium takes the same exact frame as the Flak Jacket, but has a slightly larger, more squared-off XLJ lens. So you get all the same features, only with a little more coverage for larger faces.
As with the standard Flak Jacket, the XLJ is all about sport, and it's all about lifestyle. It looks and works just right whether you're groveling in your drops or kicking back with a cold one. This kind of multi-purpose use is appealing for the simplicity it affords.
The Flak Jacket has an O Matter frame for lightweight, durability, and comfort, and the Unobtanium nose piece and ear socks help make the three-point fit as secure as wearing full-face goggles. High Definition Optics on Plutonite lenses offer great clarity, and to keep them that way, Oakley coats the lenses with a hydrophobic and oleophobic solution. These are features on all of Oakley's sport glasses; they haven't skimped just because the look here is fashionable. And being both sporty and fashionable is what the Flak Jacket is about.
The Oakley Flak Jacket XLJ Iridium comes in a Matte White frame with Jade Iridium lenses. Jade has a neutral green base with a mirror coating for sunny days; it allows 17% light transmission. It comes with a hard case and a soft bag, the latter for cleaning and stowing the glasses in a pocket. There are also two sets of nose pieces to customize the fit.
Great place for business
Familiarity:

I've put it through the wringer

Fit:

True to size
I ordered a pair of Oakley flak jackets, chose my options and the product came FAST , easy, and exactly as I ordered. Will absolutely do business here again!!!
Will standard Flak Jacket lenses fit in these Xlj frames?
Best Answer
After reading the comment thread for the replacement lenses, it looks like the only difference between the standard flak jacket and the XLJ is the lens. So, yeah looks like they are interchangeable! Just don't try to swap your flak jacket lenses for lenses that fit a different model like the half jacket.


My First Pair, Still Going Strong
Familiarity:

I've put it through the wringer
My first pair of Oakleys were a set of Flak Jackets with the XLJ style lenses. For my face, I prefer these over the plain Flak Jacket lenses, but the frames are identical and will take either lens.



The Good:

--Every color of lens you could ever want.

--More open and naturally vented design than Radars or the other wrap-arounds, but still plenty of face coverage for wind and projectile blocking.



The Bad:

--Expensive, and they never seem to go on sale.

--They sit closer to my eyes than my Radars. This may be a function of the nosepads I'm using, but it feels weird on my eyelashes sometimes.



If you don't want wrap-arounds, or you want something a bit more stylish for everyday wear, these are a solid choice. Now if only I could stop losing them...
Clear Optics
Gender:

Male

Familiarity:

I've put it through the wringer
I have an array of lenses (clear, persimmon, vr28, ice iridium, and a polarized lens). They are all super clear and serve their purpose well. The fit is good and the lenses are easy to change. I also really like the case. I've had the glasses for 4+ years. Still holding up well.
Love these!!
Familiarity:

I've put it through the wringer

Fit:

True to size
These are my favorite sunglasses for any active use. They are super lightweight and they look awesome. I have them in black with the fire iridium lens and they're perfect for any type of sunny day. I generally use these when running on the road or trail as well as every hike I do. They hug my face and nose enough so that they don't slip at all. In fact, the more you sweat, they tend to "stick" to you even better.



I don't change the lenses on mine very often, but if you want to, it's easy enough to do. This opens up your options a lot and allows you to use these for really any situation. I have an average sized face, and these fit very well. I also love the XLJ lens as it's just a little bit bigger than the regular, offering that much more protection from the sun.
Nice setup
Familiarity:

I've put it through the wringer

Fit:

True to size
These glasses are sweet because they are comfortable to wear all day, offer a variety of lenses and block the wind fairly well. As a kit, they have the soft case with space for extra lenses so you can have a lens for any light condition. They wrap well without causing any hot spots from pinching, and the rubber contact points make sure they don't slip.
Oakley Flak Jacket XLJ Sunglasses
These are great sunglasses, you can change the lenses very easily. It also comes with a hard shell case in which you can add the extra pair of lenses.



I wouldn't recommend these glasses for biking or for running as they fogs up especially in the rain and in winter.



Overall great glasses, extremely good quality


Great!
Gender:

Female

Familiarity:

I gave it as a gift but have feedback to share
Purchased these as a gift for my brother. Love the fact that you can change out lenses. Great protection and they fit well.
Best of the best
Gender:

Male

Familiarity:

I've put it through the wringer
Love 'em. This is my second pair of Flak Jackets. The only reason I bought a second pair is because I lost the first ones. This is my first experience with the XLJ lenses and for me they are a big improvement. I guess I have a big head. Field of view with these lenses in physical activity is improved and vision clarity is unbelievable.
Nice but pricy
Gender:

Male

Familiarity:

I've put it through the wringer
I love these sunglasses hands down. Oakley has it figured out with the fit and styling. You can do any kind of activity without having to worry about them slipping or falling off your head. My only complaint is the price. Seems a bit high for some nicely configured plastic, but overall they are worth it.
I have the black iridium and I love them. They don't cut glare as well as polarized lenses, but the clarity is amazing. I dropped them and put an idiot scratch in the corner of the lens, but I don't notice it when I'm wearing them. I'm going to fix that when I'm ready to order prescription lenses, since age is attacking my eyesight. They don't slip when I'm sweaty, which is a huge plus.
had these for 3 years now. the fire iridium lenses are awesome. i wear them so much i cant go outside without them anymore. classic oakley technology and practicality
Unanswered Question
I ordered the Oakley Flak (RX) when I tried...
I ordered the Oakley Flak (RX) when I tried them on they appeared bigger than the normal lenses. The sales rep. measured the lenses and the RX lenses were 1mm bigger in length than the normal sunglasses lenses, which makes a difference, I have a small face and they look too big for my head. The rep. did not tell me the lenses stretch when the prescription is added to the lenses...Anyone know is this right....
I got my first pair of Flak Jackets as a door prize gift and loved them! They fit my face well and look good! I bought another pair a year later because my lenses got all scratched up from taking them through canyons. I would use the old pair for canyoneering and the new pair for driving and day use. They were so stylish that 2 of my friends also bought them! I will definitely buy another pair when the time comes to replace the ones I have now!
Oakley Flak Jacket XLJ Sunglasses
Great glasses! I use them primarily for running. Lenses don't fog up. Easy to clean. Multiple nose pads to customize fit. Running tension free since buying these.
It's with good reason you can find the Flak Jacket in the peloton up on the Col du Tourmalet, as well as perched atop foreheads in the Whole Foods produce section. It's rare enough that a frame offers a universal fit and style (sporty, without being overly aggressive) with enough engineering to satisfy the needs of a pro cyclist just as much as a pro dog walker, but the Flak Jackets deliver. They don't feel overly sporty, nor do they underperform, ensuring they're never out of place in any activity - already an easy mainstay in my collection.

* while all Flak Jacket frames are the same size (with exception to the "asian fit"), the XLJ lenses feature a slightly wider lens profile
* granted, this is an interchangeable lens system, but it's much trickier than the PIVLock or Interlock systems from Smith, or the vastly superior Switchlock tech found in the Oakley Jawbones