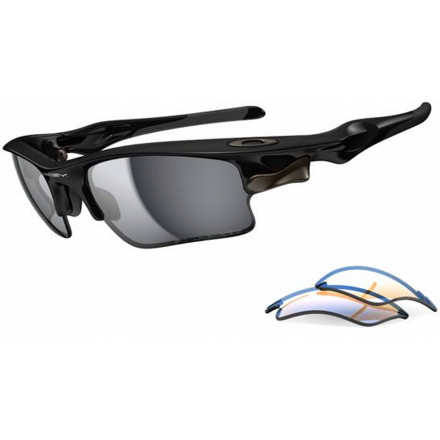 Detail Images

Community Images
Polarized is one of those names that reek of marketing. It's a pity as Polarizing does a simple, great thing. Polarized lenses block glare and improve your vision in bright, reflected light. Oakley figured out how to improve the existing technology, and that's why they they're now making Polarized lenses. Putting XL polarized lenses into their new Fast Jacket makes a great package for eye protection on those long, sunny days in the saddle.
You've surely noticed that distracting sources of light are those in front of and below you. Snow is obvious, but glare can also be harsh on the water, on the road, and from shiny cars on the road. The application here is similar to a Venetian blind for your lenses, with the horizontal lines blocking the glare. PPutting XL polarized lenses into their new Fast Jacket makes a great package for eye protection on those long, sunny days in the saddle.You'll see better, and you'll squint less. In the end you'll be more rested because your eyes don't have to work so hard to see.
What makes Oakley polarizing different is that they figured out how to integrate the filter into their lenses without applying glue. Their competitors typically sandwich the filter between thin layers of lenses using clear glue. The glue is often the source of the slight distortion you experience when wearing some polarized glasses. Another plus of Oakley polarizing is they make both the right and left lenses at the same time and cut them out in parallel pieces so the filter lines up exactly the same way for both eyes. This is one less piece of optical information for your eyes and brain to adjust to: another reduction in eyestrain.
The Fast Jacket is Oakley applying their Switchlock technology to open edge lens architecture. So you can get the benefits of their race-specific Jawbone in a style that is technical enough to be worn for hard riding and casual enough to hang out at the beach. The Switchlock is a lever that locks into place and yet easily opens up to change the lenses. Aesthetically, the finished stainless adds nice visual pop to the already attractive package.
The Oakley Fast Jacket Polarized XL comes in three colors, each with different sets of lenses. The Black Plaid fame comes with G30 Polarized and VR50 lenses. The Polished Black comes with Black Iridium Polarized and Persimmon. The Polished White comes with 00 Red Polarized and G40. Packed in the box is a soft vault (aka hard case), along with a micro fiber travel bag that has pockets for spare lenses and doubles as a cleaning cloth. Lastly, the glasses also come with two sets of nosepieces to best customize your fit.
Switch lenses as quickly as conditions change with Oakley's Switchlock system

Open-edge design eliminates frame material at the bottom for better downward view

Lens features a curved shape at the bottom to limit movement as your facial muscles and cheekbones respond to the awe-inspiring views

Plutonium lens material resists high-velocity damage, and High Definition Optics (HDO) lenses offer visual clarity and reduced distortion

XYZ Optics is Oakley's lens patented design that provides clarity at all angles by minimizing light distortion

Lightweight and highly durable O Matter frame resists wear during rigorous activity

Includes two sets of interchangeable polarized lenses and two sizes of interchangeable nose pads

Oakley? More like Stokley.
Gender:

Male

Familiarity:

I've put it through the wringer
Prior to shelling out the cash on these, I was wearing cheapy sunglasses that barely got the job done. It was awful - they'd fog up anytime the weather would drop below 50, I couldn't see well in my peripheral vision, and frankly they proved to be extremely uncomfortable after an hour or more ride. Once I upgraded, those problems went away and hence why I love my oakleys. They're incredibly light, hang on tight, fog up ONLY when using a face mask, and they're bomb proof. Mine came with low vision amber lenses that really add a lot when you're starting out your ride a little later than planned. All around, great purchase!
Husband loves them!
Familiarity:

I gave it as a gift but have feedback to share

Fit:

True to size
I bought these for my husband. It took his eyes awhile to get use to them Im assuming being the first pair of polarized oakleys hes ever had.
Super Stoked
Gender:

Male

Familiarity:

I've put it through the wringer
These are my go to shades for mountain biking. Given the majority of my riding happens in the Bay Area, conditions are constantly changing from foggy to sunny, from shady to super sunny from coastal trails, to 'rancho to Mt. Tam and I need protection, clarity and functionality- Oakley nailed it with these! I'm a large-sized dude and the fit is spot and overall feel is lightweight.



I have the polished black polarized/persimmon lenses and I am super stoked with the first 300 miles and I see picking up a pair of clear lenses for night riding in the near future.



Lastly, protective case and stash bag will keep these safe, snug and clean.


Great Lenses; not so with the frame finish
The OO Black Polarized Lenses simply looks amazing and clear. Simply love the contrast nature of the lenses. Would have preferred them to match the black plaid frame.

The same can't be said of the silver finish. There were portions in which the silver finish was scrapped off (area above the & the top part of the frame above the right lenses). The finish areas beneath the switchlocks were also uneven.

Had similar problems with the white chrome for the Radar Path previously. Seems like Oakley has problems the durability with these natures of finish.
The Fast Jacket is the latest in a long line of pieces in the 'Jacket' line (Half Jacket, Straight Jacket, Flak Jacket, etc.), and quite unequivocally, the greatest. Finally, a design that brings everything to the table; Oakley's amazing optics, a lightweight and comfortable frame, excellent facial coverage (lenses are significantly larger than the Flaks), and a truly interchangeable lens system (easier than even the Jawbone, whose Switchlock tends to stiffen over time). Nice being able to change lenses without a flowchart, or fear of breaking the frame, as common with previous Jacket iterations. Granted, because of the alloy elements in the Switchlock functionality, the Fast Jacket is somewhat heavier than a Radar or a Flak Jacket, however, according to Oakley, their weight is actually identical to that of the Jawbone.

Extremely impressed with this piece - another true evolution in sports sunglasses.
Liked running with them. Feltight no interruption. Only problem was that someone else liked them too and stole them from me as well. So now I am out of my oakleys.
I thought these would be great - easier to change the lenses in comparison the the half jacket and flak jackets, but I found them much heavier and not as comfortable, so I sent them back. I like the jawbone much better as the lens are easy to change and they are light.