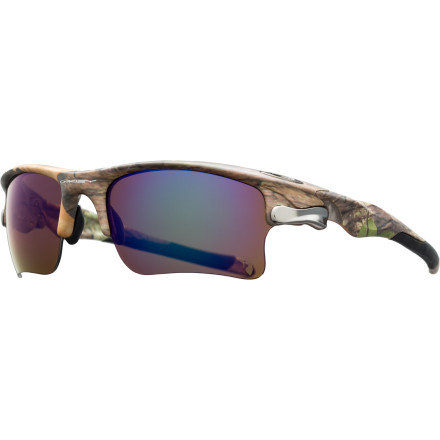 Oakley Fast Jacket XL King's Woodland Camo Edition Sunglasses - Polarized
View Larger Image
Detail Images

Videos
When you're deep in the woods you've got all kinds of protection against weather, cold, hunger, and wild beasts; it only makes sense to arm yourself with the high-tech, advanced optics of the Oakley Fast Jacket XL King's Woodland Camo Edition Polarized Sunglasses. Fend off harmful sun rays and blinding glare with polarized Blue Iridium Plutonite lenses, and keep those High Definition Optics in precise alignment with the Three-Point Fit of the O Matter frame. A curved bottom on the lens and open-edge frame keep these shades lean and eliminate weight and bottom-frame occlusion. When the light gets flat or the sun sets, use the quick and easy Switchlock interchangeable lens system, and get a new pair of eyes for low light. And of course let the earthy camo design and metal logo accents bring on the swagger and style.
Switchlock interchangeable lens technology lets you trade out lenses to adapt to changing light for comfortable protection in all conditions
Plutonite polarized lenses ensure protection against harmful 100% UVA, UVB, and UVC rays and blue light, in addition to exceeding ANSI impact standards
High Definition Optics and dual lens polaric ellipsoid geometry cut from a single toric lens give you amazing color contrast, clarity, and depth perception
Patented XYZ Optics provides clarity at all angles by minimizing light distortion
Blue Iridium lens coating reduces glare and balances light transmission to reduce eye fatigue and maximize comfort
Lens features a curved shape at the bottom to limit movement as your facial muscles and cheekbones respond to the awe-inspiring views
O Matter frame offers a balanced, pressure-free feeling and is incredibly durable, stress-resistant, flexible, and lightweight
Wraparound lens curvature improves side protection against sun, wind, and impact
Comfortable, snug Three-Point Fit holds lenses in precise optical alignment for distortion-free vision
Open-edge frame design eliminates material at the bottom for better downward view
Includes two lenses, one for low light and one for bright sun, to optimize comfort and protection
Metal icon accents add a little high style to these rugged shades
Please click on size chart for information on lens options
What do you think about this product?
Have questions about this product?
Oakley Fast Jacket XL King's Woodland