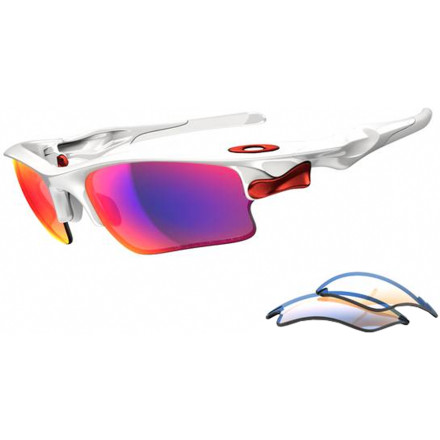 Detail Images

Videos
Same. Well, not quite. Different, sort of. You've seen them before, and yet you have a nagging suspicion they're something else. At first glance, the Polished Black Oakley Fast Jacket looks similar to their Flak Jacket, yet you can tell something is new. You might notice the greater sculpting on the arms. Or maybe it's the stainless steel hinges holding the lenses in place, finished to match the Oakley icon above. Put them on and you'll know in an instant they're different.
In your hands, you can tell that these are light, weighing in within a gram or two of the Jawbone. You can feel the balance, that the weight of the arms and the front are about the same. Look through the lenses, and you'll see the benefits of having pinch-free mounting all over ...Switchlock Technology is all about convenience and distortion free optics... again. Like the Jawbone, the Fast Jacket has a hinge, Switchlock technology they call it, that locks the lenses into place. This means it's easy to change lenses, and there is absolutely no distortion whatsoever, taking Oakley's famed XYZ Optics up another notch.
The Fast Jacket is Oakley's answer to people who like the amazing distortion-free vision and the convenience of the Jawbone, but are looking for something that has both on-bike and off-bike style. They're also for those who prefer not having the frame encasing the bottom of the lenses.
The Switchlock is easy. Open it up, the lens drops out. Insert the lens, lock the stainless steel Switchlock lever, and the lens is firmly in place. Aesthetically, the finished stainless adds nice visual pop to the already attractive package.
Wear the Fast Jackets for any length of time and you'll notice how comfortable they are. The O Matter frame has been carefully sculpted to hold every size head well without pressure. The Unobtanium ear stem sleeves are the same rubber that gets stickier the more you sweat.
The Oakley Fast Jacket is Polished Black. They come with two lenses -- Black Iridium and Persimmon. As with all of the two-lens packages, one is a neutral tint, the Black Iridium, and one high-contrast, the Persimmon. One is also for sunny days, the other for overcast. The Black Iridium has 10% light transmission while the Persimmon has 61%. The glasses come in a soft vault (aka hard case), along with a micro fiber travel bag that has pockets for spare lenses and doubles as a cleaning cloth. The glasses also come with two sets of nosepieces to best customize fit.
Switchlock technology uses a hassle-free quick-release injection molded stainless steel switch

Comes with Soft Vault case, two sets of lenses, and a Nano-Clear Hydrophobic Mini-Pen

HDO technology—filter in the light you want and block harmful UVA,UVB, UVC, and blue light up to 400nm

Meets ANSI Z87.1 standards for impact protection

Oakley Fast Jacket Sunglasses
Great shades for athletes
I've had these for a few months now and am very pleased with them. I had never tried them on before so I was interested to how they fit compared to other Oakley athletic sunglasses. They fit snug on my face, but not tight. They never move even when I'm sweating profusely which is great for cycling. When I'm suffering up a climb in the heat of the day the last thing I want to worry about is my sunglasses. They're easy to clean. The lenses are easy to replace. Above all else, the lenses are top quality (per usual for Oakley XYZ). The colors are vibrant and my eyes don't get fatigued.
Why cant i find replacement lenses for...
Why cant i find replacement lenses for these glasses
Best Answer
Oakley often restricts what components can be sold by retail partners, such as Backcountry.com. And in other cases due to the limited demand of such pieces many online retailers will not stock replacement parts as well. I did some research but came up empty handed, in regards to where replacement lenses can be found. However I can state from experience that Oakley has an excellent Customer Service department, and they may be able to assist you in ordering replacement lenses. For your convenience I have included their contact number below:

Oakley
Customer Care
1.800.431.1439
Monday - Friday: 6am to 7pm (PST)
Saturday: 7am to 4pm (PST)
Sunday: Closed
Unanswered Question
Are Flak Jacket replacement lenses compatible...
Are Flak Jacket replacement lenses compatible with Fast Jacket frames?? If not which replacement lenses are compatible with Fast Jacket frames.