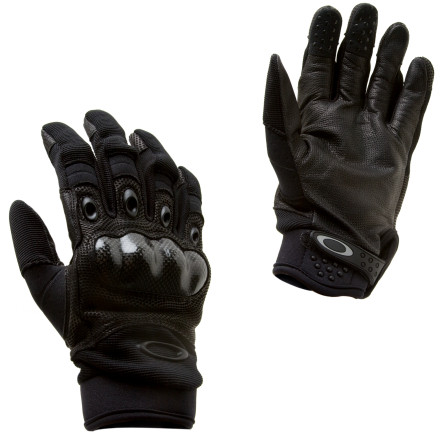 Detail Images
Oakley built the Factory Pilot Bike Glove at the special request of the US military. Carbon fiber plating protects your knuckles from enemy rocks and branches when you're riding at mach speeds, and a full-grain leather palm grips the controls as you power-dive on the downhill. The Factory Pilot Glove achieves a precise fit with 4-way stretch panels, while Airprene material and micro-vents allow free air passage.
These gloves run large. I usually prefer a medium for snug fit, but for these Oakley's i found the large to actually fit better. Mediums would have been TOO snug. i have between 8-9 hand size, fyi.
Unanswered Question
I would like to purchase these in Large -...
I would like to purchase these in Large - Khaki, however I do not see that option. Are these going to be available?
Unanswered Question
Can I combine an order on huck n roll with...
Can I combine an order on huck n roll with a held order on SAC to combine shipping?
I really like these. These are rugged and well made. Plus you get badass points with the CF knuckles.
These gloves are solid. Leather palms with high quality manufacturing. The added protection and badassery of the carbon fiber knuckles is pretty killer. On a random note, I had to free a large (5 foot'ish) rat snake from a netting entaglement and it tagged me in the hand while trying to grab it's head (the discovery channel makes it look easy). Luckily it's fangs didn't peirce the glove, which I attribute to the quality leather upper they used in the construction. One thing to note is that if you sweat while riding or get these wet the black dye from the leather palms will rub off on your skin a bit. Other than that, these gloves are about darn near perfect. A definite upgrade from my last 661 cedric gracia hardknuckles.
Love the oakley pilot gloves
They fit well, good dexterity and a rugged palm. Love the carbon knuckles and venting. I don't like taking them off!
I've used these riding all winter. Originally purchased for riding warmer conditions, but they've managed to do it all. Aren't always dry but definitely a strong quality glove. Designed breathable, with easy dexterity and a great fit. Knucks
hello, i ordered these gloves via amazon.com,...
hello, i ordered these gloves via amazon.com, but the package has hucknroll.com info and return address label. Anyway, i ordered a medium, but they are too tight, can i exchange for large? Also, my order isnt on this website, so how can i return this item? Thank you!
Hey,

Yeah no problem, just call in at (866) 994-3478 and one of our representatives will take care of you.
Thanks HUCKN ROLL!
Fast / easy purchase. Best price on the net and gloves are great.
Will you be getting more sizes in? I am...
Will you be getting more sizes in? I am looking for a Small
The best thing to do is jump on "live chat" and ask those folks. They'll be able to look up if they've got any on order and if so they can give you a rough idea of when they'll be in stock.
We do not have any 'smalls' on vendor order at the moment but do have 12 pairs of 'mediums' and 17 pairs of 'larges' on vendor order that should become available soon.
As expected from Oakley my 4th glove, unlike all others this glove has it all: style, grip, protection, and confort which includes that its breaths. At last I have found the right glove, specialy that it matchs my carbon fiber helmet...
Oakley Factory Pilot 2008
okay, these gloves are actually pretty darn good.
The palm leather is thick and soft, yet I can feel the wind cool my hands down when I'm going downhill.
The top carbon nuckle protector is just amazing. The other day I had a minor crash, but my bike smashed against my hand...didn't feel it!
The only thing that I wish they would change on the glove is the velcro. On oakley's Pilot 2.0 gloves, which I also have, they have a 2 velcro band, which sets the glove on your hand perfectly, no matter what this thing will never become lose. Nevertheless, on the Factory pilot, they put a little velcro band, tiny! WTF!?!, and the secure feel on the single velcro band is marginal.
Because I need to feel my gloves are completely secure, I will give it 4 stars, but comfort, protection, materials, and looks are all 5's!!!

have a good time!