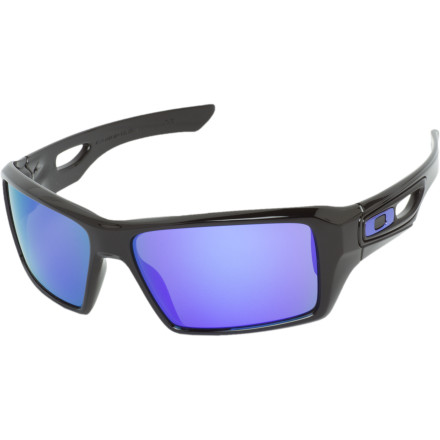 Detail Images

Videos

Community Images
The Oakley Eyepatch 2 Sunglasses dish up huge performance and even bigger style. The O Matter frame and Plutonite lenses provide long-lasting durability. Rock these eye-covers next time you hit the streets for a modern, innovative look that will protect your eyes.
Oakley Eyepatch 2 Sunglasses
These fit most faces just fine but are kind of large! Overall like them and are happy for a good sun glass. I have a medium face and they fit fine.
Oakley Eyepatch II Steel/Dark Grey
Another view of the Oakley Eyepatch II in Steel/Dark Grey
The Eyepatch 2 are on par with the size of an actual eyepatch — which is to say, they're pretty big. But true to Oakley form, the O-Matter frame is still super lightweight and exceptionally balanced, so you get all of the oversized style points without any of the weight detriment. And while the lenses are large, the sculpted frame width itself isn't overly massive (on par with the Antix, Dispatch, or Fuel Cell), so you still get a nice universal fit. If you find yourself complaining that Oakley isn't making "small wrap-arounds" anymore, move along matey, nothing to see here.
Had to get the polish ones.
So I have the Signature Series Eyepatch 2 and I decided to get this ones since they have some Polish. I totally recommend them. Great for been at the beach or hanging out.
Lenses are bigger than most glasses, over all they are good looking glasses.
What is the measurement temple to temple...
What is the measurement temple to temple inside the frame?
Hey djn3340493,

The temple length on these is 122 mm. Also, the total frame width measures out to be 148 mm.
I picked these up in a polarized version been my lucky pair had them almost 3 years and haven't lost them lol I have no gripes about these been very happy and a good alternative to the ever popular gascan model.
Smoother lines with and etched out temples. Nice match of lens and frame color here. This is a bigger frame and lens than most glasses. Contours face nicely on me.
When i got these, i wasn't expecting how HUGE these shades really are. Don't let the images fool you. I have a large head and they still took up half of my face. I used to own the first Eyepatch. The resurrection of the classic Oakleys has been well made, re shaped to look unique, and has the Oakley quality that can't be beat. Best shades I've ever owned. Period.