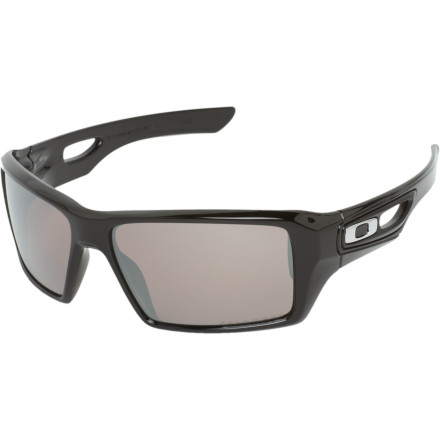 Detail Images

Videos
The Oakley Eyepatch 2 Polarized Sunglasses give you a stylish, modern look while they keep your eyes safe and filter out glare. Wear these shades while you sail your pirate ship in search of treasure. The polarized lenses will kill the off-the-water glare, and the O Matter frames will look a whole lot better than black eyeliner.
Does anyone know if these can be fitted...
Does anyone know if these can be fitted for prescription?
Payton,



The lens' on these frames are non-interchangeable so I think you'd be hard pressed to get the lens' out in order to put new ones in.



For your needs I'd be looking at frames with interchangeable lens'.



Jared D.

Gearhead

800.409.4502 ext4055
Does anyone know if the polarized version...
Does anyone know if the polarized version also means they are Oakley's true "HDPolarized" as mentioned on their site? It's confusing as they state, "Choose Oakley HDPolarized lenses and you?ll have the best polarized optics available." however they don't mention if that's the bronze, or black iridium, both, or neither.



Looking hard at these because the fit in the store for my large head and nose was great.
Yes it is, I have never heard of Oakley using a different polarization than their own HDPolorization. They take pride in their glasses. Hope this can help you even a little bit.
Thanks Shawn. I ended up with Maui Jim World Cup's, polarized glass lense, I've never experienced a better lense - truly unbelievable. I've taken them to Houston and Tampa this month in the summer sun and my eyes were relaxed the entire time!



I appreciate your assistance though because they fit me about 90% perfect where as the Oakley Eyepatch2 is closer to 100% perfect with my gigantic grill ;)
Oakley Eyepatch 2 Polarized Sunglasses
Got the black polarized. Look great, stay tight on the sides so they don't move around a lot.
Unanswered Question
I have a scratch on my lens and it is said...
I have a scratch on my lens and it is said lens are not interchangeable, what can I do without having to buy another pair