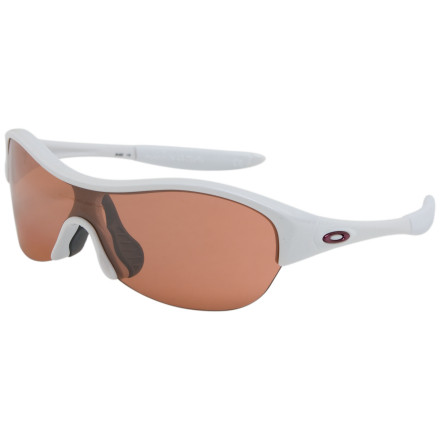 Detail Images
The Oakley Women's Enduing Pace Sunglasses use a hydrophobic lens to repel water, dust, skin oils, and lotions for smudge-free vision when you need it the most. Oakley's XYZ optics ensure crystal-clear quality and excellent peripheral vision without any gaps in UV protection. Tough Ubtanium frames make the Enduring Pace Sunglasses stout enough for the roughest days around town or in the hills.
Oakley Enduring Pace Sunglass Review
When it comes to sunglasses that I can work and play in, I always think of Oakley. When working an outdoor sport as an Athletic Trainer, I don't have time to fiddle with my sunglasses when I am needed out on the field. The Oakley Enduring Pace have proven to be everything that Oakley promises - lightweight, great stability, and is made of high quality material. These sunglasses have not even slipped off my nose in the last month that I've worn them. My only negative comment will be the pink lenses that came with the particular order I placed, they are great on a semi to completely cloudy day, but in the bright Florida sun, I am going to have to save up for a darker lense. Thanks Backcountry, I look forward to doing business with you again in the future.
My complaint is the opposite of the other reviewer. My endure lenses sit way FAR off my cheeks. They let in a lot of light and air below and to the side. Its a shame because the Endure frame fits well, stays where you put it,--and its cute too. But I'd rather be able to wear the Radars--those lenses fit closer to the cheeks, have a larger field of view, and wrap around into your peripheral vision. (I have a hard time with my peripheral vision in my endures - I have to be EXTRA careful of cars.) Unfortunately the Radars have a WIDE frame. So - why is it next to impossible to find wrap arounds for women/smaller/junior faces? Dont we deserve eye protection and coverage too?
These looks great on, but unfornately had to return them because it didn't fit, touching my cheeks. According to Oakley's website, they have the "Asian fit", so will try that out.