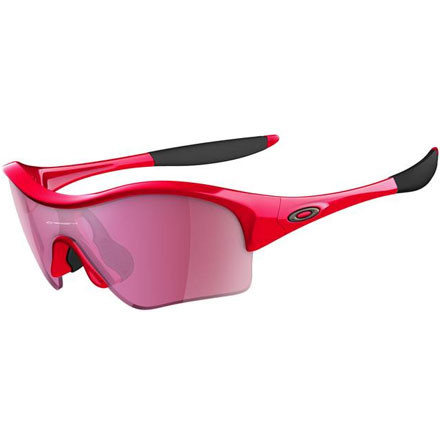 Detail Images
Oakley developed the Women's Enduring Edge Sunglasses to offer the finest in athletic optical performance without making you look like a dude. These sunglasses offer all Oakley's technological bells and whistles: interchangeable lens design, hydrophobic streak-resistant lens coating, high-definition clarity and peripheral visibility, featherlight frames that increase grip as you perspire, high impact resistance so you won't smash 'em, and 100% UV protection. The Enduring Edge's fit and style are fine-tuned for a woman's face, while the slightly larger lens size offers the coverage you need as you cruise down the singletrack. Additional lenses are available, sold separately.
Oakley Enduring Edge Sunglasses
These sunglasses are amazing! I refrained from participating in outdoor activities for many years because I wear hard contacts and was afraid I'd get something in my eye, take out my contact, have it blow away and not be able to see. These glasses have protected my eyes flawlessly for over a year whether I'm trail running, road riding, or mountain biking. I think a fleck of dust/grit made it's way past the lenses once, and that was on an especially windy day. Not only do the offer supreme coverage, they are also so light I sometimes forget I have them on. They are one of the most functional, hardest working pieces of gear I own. Highly recommended.
I use all different types of Oakleys. But these are the glasses I use when I am going on a run or biking. They fit on your head and the vision out of the lenses is phenomenal.
Write your question here...can a prescription...
Write your question here...can a prescription be used on the Enduring Edge lense?
Yes, but you will have to purchase them through an authorized optometric shop.
http://www.oakley.com/women/enduring
http://www.oakley.com/innovation/optical_superiority/prescription
Write your question here...Hi, the cinder...
Write your question here...Hi, the cinder red looks black to me, what am I seeing? are the vr28 lenses darker than the g60's. thanks, kelly
It's a very dark red, the light's just weird in those photos. I uploaded a photo from Oakley's site that shows the color better. Also there's no G60 lens, but the G30 is darker than the VR28.
love these. i bought them for cycling and snowboarding. they cut the wind, are great morning, noon and night and look super sleek too!
, ☃bcs_badge_alumni_label☃
Love em
These are awesome. I love the iridium lens. Its sweet in the evening or for biking especially. I have a small face and they fit really well and stay snug. Whether I am mountain biking or trail running they vent well and stay put. Did I mention I love the lens !?