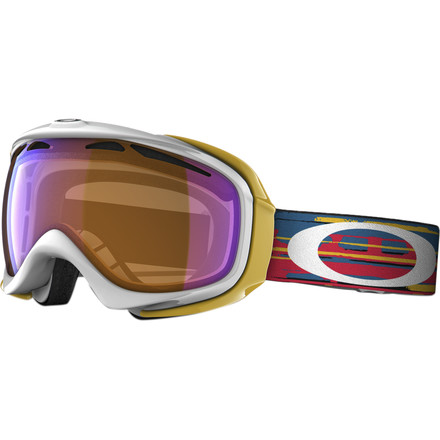 Colors

Detail Images
Description
Big technology comes in small packages too.
The Elevate Goggle takes all of Oakley's technological expertise and hits it with a beam of size-reducing gamma rays. The result is supreme optical clarity, killer looks, and unbeatable comfort, custom-made for smaller faces. Distortion-free XYZ Optics keep every detail of the mountain in focus, while a frame design borrowed from the Splice eliminates pressure over the nose to keep you breathing free.
Flexible O-Matter frame remains pliable in any temperature
F3 Anti-fog coating eliminates the steam-room cloud
Outrigger strap mounts distribute strap pressure evenly to the face with or without a helmet
Unanswered Question
Hi



My five is 5.4 feet tall. I would like to buy her Oakley Elevate Goggle with Black Iridium lens. It will be her first time on snow.

Do you recommend it?
Choose your lenses wisely
I like the frame a lot - wide field of view and comfortable fit. A friend gave me these goggles with the fire iridium lens, and while I love the frame, I hate the lens. It's great for the middle hours on bluebird days, but I feel a little bit blind the rest of the time (morning, afternoon, trees, or god forbid there's a cloud in the sky...). Last season, I wore these on days I knew I would be above treeline the whole time, but let's be honest, how often does that happen? These are great goggles, but don't be stupid about the lenses.
Oakley HI Yellows Kill in the Flatlight
The low sun up here in Alaska makes for some weak viz most of the year. Most people I know rock yellow lenses unless it's spring and the sun's out. Oakley's HI Yellows are the best I've found. I borrowed my buddies one day and was sold. I messed up my first pair of Crowbar's by wiping the inside of lens (you can't even clean them with a lens cloth or it screws up the coating). I have a smaller face though, so my new pair of Elevates fit better anyway. Only wish I could afford to pay full price and get a frame and strap color I like (had to by them on Whiskey Militia in some wack colors). The lenses are great but $$$$!
These goggles fit well for people with smaller faces. The triple layer face foam absorbs sweat on hotter days. The lenses don't scratch easily and are easy to change. They never fog up. Black iridium is a good all around lens. Blocks the sun on bright days but is also good for foggy snowy gray days.
Do these fit 12 year old Kids's?????????
Do these fit 12 year old Kids's?????????
Completely depends on how big your 12 year old is and if it's a girl or boy..
Sick goggles they're really sturdy and are sick looking!
Unanswered Question
How scratch resistant are these Goggles?...
How scratch resistant are these Goggles? My Smith Anthems scratch so easily and I've never had Oakleys before, but willing to try.
def smaller than the crowbar and splice, and i would even call them a little smaller than the a-frame. Great fit for small faces. The HI yellow lens is great for low light. fits well with my Smith Maze helmet. Peripheral vision is not an issue for me.
I am a girl. I am about 5'1 and have a...
I am a girl. I am about 5'1 and have a very small face. I am thinking of these or the A frames. Which one is better for small faces?
Both will work for smaller faces. The Elevate incorporates Oakley's new frame tech that keeps pressure off of the nose. That would make me lean toward them over the A Frames.
Best Answer
The A Frames will work better for you. I have a bigger face, but a tiny nose and the elevates fit me, but friends with smaller heads go for the A Frame.
Is it possible to easy change the glasses...
Is it possible to easy change the glasses in these goggles?
all oakley lenses change real quick
Best Answer
To change the lenses in the Elevate is actually pretty easy. Not as easy as the Air-Brake, but easy. The more you do it, the faster you get. It will probably take you 10 min (including wiping your finger prints off).
It is a easy change and like Grete said the more you do it the easier it is, wouldn't try to do it for the first time on the lift..
Purchased these to replace my A-frames which were a little small for my head, left me with a gaper gap and felt like I had tunnel vision. I purchased the Elevate w/Hi Yellow lens based on prior reviews. Have used them 15 plus times this season and they are great: don't fog up, have a wide field of view and give the snow great definition. The Hi Yellow is great for night skiing which I do a lot of. Actually last night I skied down an unlit trail at dusk and could see better with these goggles on than with them off. The Hi Yellow is great for all conditions except on sunny days I do find myself squinting so I may purchase a replacement lens for those days.
How do these lenses work on darker days...
How do these lenses work on darker days or at night?
During a blue bird day (sunny) I wear the Blue Iridium lense and it keeps my eyes from hurting. At night or on a grey bird day (overcast) I pop in the High Intensity Yellow and have no problem shredding.

facebook.com/felixpaden
The High Intensity Yellow is the best lense for the darker days on the mountain.
I think these are very underrated goggles. I've had the last two versions of A-frames, but was never 100% happy with the fit or peripherals. The Elevates fit my face better and I prefer the squared off geometry. Also goes well with my giro revolver helmet. HI yellow for flat/low light and blue iridium for sunny days is the perfect combination and worked well during my whistler trip--HI yellow really saved my ass during a white out. Love these goggles.
Is it possible to change the lens/frame...
Is it possible to change the lens/frame combination? Ie, I'd like fire iridium lens with either the canary or factory slant if possible??
Hey,

Absolutely. Just buy the frame you desire and you can get spare lens' here:

http://www.dogfunk.com/oakley-elevate-replacement-lens
These goggles are definitely for people with small faces. They are a lot bulkier compared to my Smiths Anthems. Going to return this.
Would these goggles fit a motor cross...
Would these goggles fit a motor cross helmet? We would like to use these for riding snowmachines.
Best Answer
What kind of motor cross helmet do you have? I snowmobile and this goggle fits in my snowmachine helmet. It fits nice with my helmet. It fits just like a crow-bar goggle if that helps.
This is a great google for helmets, designed for ski/snowboard helmets but the goggle should work well.
Great goggle for the ski resort!
These are great goggles, with a quality lens (I used the polarized Fire lens, specifically).

4 stars for fit and overall function.

I ended up returning these goggles, and going back to the Oakley A-Frame (also with a polarized lens).

Here's why:
The Elevate goggles have a smaller field of view, and did not fit my slightly wider face very well. The Elevate also had poorer venting, and fogged up while touring/skinning.

If you have a smaller face, and primarily use this goggle at ski resorts, I'm sure you will be VERY pleased, Oakley makes a quality goggle. It fits very nicely with a helmet.
these goggles are really nice and they are more of a normal less flashy goggle then most of oakley's designs. the fit is good for smaller sized faces which also unfortunately makes the field of vision in these worse then the crowbars of splices
these goggles are really nice and they are more of a normal less flashy goggle then most of oakley's designs. the fit is good for smaller sized faces which also unfortunately makes the field of vision in these worse then the crowbars of splices