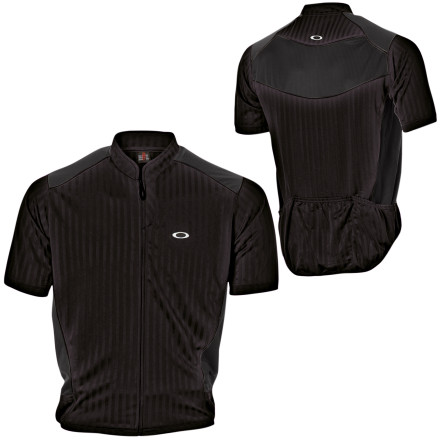 Detail Images
First of all, this jersey is nice to have on a hot day so that you can unzip it, but Fox gear is definitely better. If you want a better, similar jersey, check out the Fox Live Wire - it's my favorite short sleeve mtb jersey.
I like the jersey, baggier than a roadie jersey. I like the center pocket and zip pocket in the back. The side pockets are not very useful, as the contents can easily fall out when you are in a riding position. Full zip is nice. I have 1 long sleeve and 2 short sleeve edge jerseys. One of my short sleeve jerseys showed up and is not symetrical. The zip and collar are off center, which sucks. Bad quality control from the manufacturer in Thailand. Otherwise I like the jersey, but not the poorly made off center one which I am sending back.
Great Jersey, Greater Price!
This is a great jersey for the price, it fit as expected, more of a club fit then a race fit. It is a bit heavy for the heat of the summer rides, but has been great on the early spring rides so far. It's a temperature thing!
I would think it should be a long lasting jersey due to the material it is made from.
I'm 5'9 and 166 lbs. I bought a size medium. The jersey has superb quality material and workmanship. What I don't like about this jersey is that the length is too short. It exposes my lower back skin when I'm riding my bike. Even with size Large, the length, according to the chart, is the same as size Medium.
What makes this a mountain bike jersey?...
What makes this a mountain bike jersey? What is different between this and Oakley's roadie jerseys (other than price)?
Lighter material, marketing...
Very nice jersey. Ran straight into a tree my first day wearing it and it barely put a little hole in it. Even after wearing and washing multiple times since then, the small tear has not grown at all. Weight is probably a little heavy for a midday ride during summer.
The color of the red shirt on Chainlove is very subdued. If you go to backcountry and look it up, it is much closer to the actual shirt. The highlights are bright orange. Kind of a strange color combination.
The jersey works, but it is not great. The fabric is pilling after just a few washings. The full zip billows out and gets in the way. I'd rather have a half zip standard jersey and skip the full zip. The zippered mp3 pocket in the back is good if you don't want to lose your ipod! I can't bring water on my bike unless I have a camelbak so the pocket doesn't do me much good.

The jersey works, but there is better on the market.
I am usually an M in Oakley tops and this one ran small for me. Otherwise nice quality but an awkward zipper pocket in the back.
I have a few other oakley jerseys and this is my favorite one yet. its pretty comfy and the pockets on the back hold things pretty well. im 6'3 and 200lbs with the Large fitting me just how i like. Ill def try out another one of these when a good deal comes up.
Should stick to what they know
Cause they sure have no clue about clothing. It has definitely been put together well, but the 'cut' is terrible. Maybe it will 'look' right on my Rottweiler. I am medium build, in very good shape but could not for the life of me figure what the heck was on their mind when this jersey was laid out. Sloppy, sloppy.
Poorly designed outside pockets
Agree with other reviews. Fabric is quality, but a little heavy to breathe really well. Fine on a dry, cooler day. Full zip is well made too. But the two outside pockets should not be used for anything valuable. They are angled and shallow. This is the only jersey I have where gels and bars go flying out. The center rear pocket and of course the zippered pocket are fine.
Oakley means quality. This full front zipper jersey is well made. It's kind of thick material which may get a bit warm on hotter days. I definitely recommend this product. It's getting a four because I wish the material were not quite as thick.
Like the other reviews said, these run a size small, so keep that in mind. With that said, the white jersey looks awesome, feels great on a ride, and actually goes pretty well with a pair of jeans when you forget to pack a regular t shirt like I did today :-)
compared to the ridgeline jerseys these run a size smaller. The S is just right on the ridgeline jerseys but too short and small on the epics.