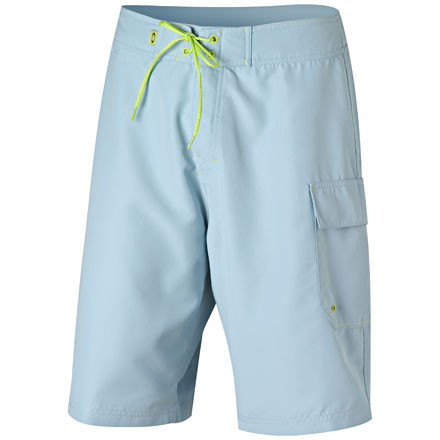 Detail Images
Muted green color is really cool. These are some soft shorts, a little see through but they don't have a liner so you'll be wearing some undies anyways.
I bought these for my hubby in muted green (which is more yellow actually). As another reviewer mentioned, these run large, and his are definitely a little on the big size. Consequently,when you tie the front to not fall down, the, er, frontal area, has an interesting bulge factor going on which I think is a little less than good-looking (unless you're an insecure idiot who WANTS a big bulge right there). My other issue is with the fabric. While the stuff sure is comfortable, it is clingy and see-thru in the areas with only one fabric layer (like the butt). He still wears them and likes them well enough, but I shake my head every time I see him get out of the pool!
send to brazil ? if i want o few board...
send to brazil ? if i want o few board shorts,how much the shiping will be ?
Tem varias marcas que backcountry.com nao pode mandar pro Brasil, por causa de contratos com as companhias, incluindo Oakley. Pode ver uma lista das marcas que nao pode mandar aqui:

http://sales.liveperson.net/hc/s-9551721/cmd/kbresource/kb-1608656291570897358/view_question!PAGETYPE?sc=120&sp=94&sf=101133&documentid=239527&action=view&VisitorProfile=BCS&MESSAGEVAR!home=yes&MESSAGEVAR!cookie=no&MESSAGEVAR!docid=239527

Para as marcas que backcountry.com pode mandar, hao todos os impostos normais para alfandega e tal...

Espero que isso ajudou.
oh how I wish I hadn't waited. I really want to throw out the rest of my shorts and just wear these, but I waited to long. I love these
I wear these shorts for more than just watersports, too. I started wearing boardshorts for other activities a little while ago due to their breathability, comfort, and quick-drying nature. I wear mine mostly auto-xing... keeps the bulk down so you're comfy in your seat and if it rains, you're all set. They also do really well in their intended use as I wear them wakeboarding too. These are nice quality shorts amd will probably be buying more soon despite going into the fall season.
I wear these shorts, 4 pairs bought in all, for everything. Kitesurfing, mtn biking, jogging, weight lifting; you name it and they fit the bill. Stretchy, breathable and comfortable beyond description the Dredge is the short of choice for all my activities, including less active ones like sipping beer on the Full Sail brewery deck.
, ☃bcs_badge_alumni_label☃
Oakley shorts
I bought these for my brother, and he loves them. He is looking to buy another pair in a different color. He loves to lounge around in them. Great pair of shorts. They are comfortable and quick drying.