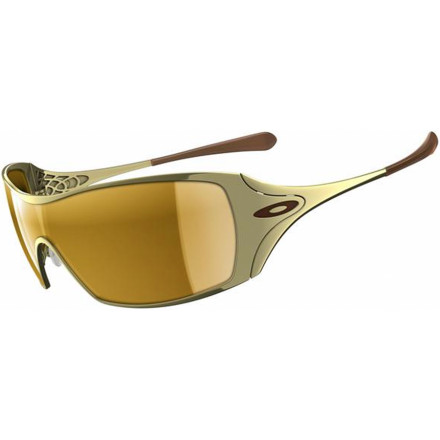 Detail Images
With a single, continuous, and contoured lens, the Oakley Women's Dart Sunglasses have a futuristic look. A lightweight alloy-frame that rests on the nose and arm pads allows the women-specific Dart to sit comfortably on your face. The Darts have a high-society extravagant style and feel, like they belong on the face of a sophisticated super-model. Oakley's optics system extends the Plutonite lens over your peripheral vision to cover UV sensitive areas. The Darts' cleaning-sack and hard case keep these glasses looking as good as the day you bought them.
hi there, i am interested in pair of oakleys...
hi there, i am interested in pair of oakleys (Dart/Gold) do you have in stock and ship to Australia ?
Unfortunately BC can't ship Oakley outside the U.S.
Replacement lenses no more
I bought these specifically because Oakley advertised that you could buy replacement lenses for around $50. Well, it seems, from speaking with Oakley, that the lenses are back-ordered for months and becoming less available and he highly suggested I just get a whole new pair.
I happned to make them work with my climbing helmet (ancient BD) and the lenses were sharp and wonderful until I scratched the crap out of them from gear and rock. The gradient lenses are great for looking down and dealing with gear then looking up to your climbing partner going into the bright light.
Also, they make you look like a rock star.
This was such a hard decision, i purchased these in the slate grey and they are fantastic looking. By far some of the best frames & glasses I have ever had. The detail in the arms are stunning.
Bought them for my girlfriend, she loved them. Uses them at every chance. Nice everyday shades....
, ☃bcs_badge_alumni_label☃
Almost a 5 star!
I love the size, the fit and the clarity of vision. My eyes are so happy when I wear them! I got the Berry with gradient, and it is great. I am giving a 4 because there is an small downside: they leave some marks in my nose after using them for about one hour. I don't feel them heavy at all, but it happens.
Don't get me wrong, I really love them!
If you're looking to up your "glam" factor, these are the shades for you. I love the look of the bronze frames and the gradient lenses. These particular lenses do not offer much protection from the sun, however. I would choose a non-gradient lens if this is a concern. My only other observation is that they are a bit heavy on the bridge of your nose, but that hasn't stopped me from wearing them for a few hours at a time.
Unanswered Question
My girlfriend picked these out for...
My girlfriend picked these out for snowboarding in. How well do they hold up in the environment, as well as sliding down the nose?
great sunglasses for all round from looking cool at the cafe to trails or fairways Only thing I would not use them for is cycling,they are too large with a helmet. I love the size, fit, weight and field of vision. When others complain of wind, and sore eyes, I am fine wearing the Darts. I purchased the brushed brown bronze with the gradient lens. The case is burly, glasses are burly but chic- worth the price tag.
Can you supply the Oakley Dart with polarised...
Can you supply the Oakley Dart with polarised lenses? Can you deliver to Malta Europe?
Sorry they do not carry these with polarized lenses. Also they do not ship to Malta.
yes. Every item from Oakley as well as all other brands carried by dogfunk.com are 100% authentic and direct from the vendors.
Super comfy for wire frames
I'm not typically a fan of wire frames. I have a bigger face and most women's sunglasses are way too small. I love the way these fit. I have some Riddles too which are similar but they are a poly frame. Both are comfortable, have great coverage, huge vision field.
I got these for the wife in the berry/purple, and she absolutely loves them. They look like glasses you would pay 2-3x the price for from some designer line, but you can get the Oakley performance and the style for cheaper with these. The only complaint she has is that her eyelashes hit the lense when it all the way up her nose. Aside from that, these things are money. The case that comes with is really nice as well.
are these glasses from 2008 line or...
are these glasses from 2008 line or earlier?
I usually buy cheap shades b/c I lose them but I bought these for skiing and they're great....and stylish also
I love Oakley sunglasses. I actually purchased these while on vacation in Cali last year. They look amazing, but after I wear them for a few hours, my nose starts to hurt. They are wire, so obviously they are heavier than O-Matter. I like my Oakley Speechless ones better. If you're only going to wear them for an hour, then buy these. If you wear them any longer than that, take some aspirin for the headache you'll receive.
tiger tiger tiger tiger woods y'allllll!
These glasses are gorgeous, seriously girls, you'll get lots of looks! they're glam, yet do the job! i had them on the entire time i was snowboarding...forget goggles! its all about the oakley shades!!