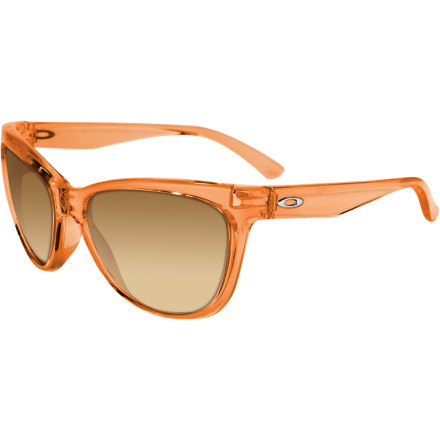 If you've been taken by the recent resurgence of hip mid-century design, don't dare step into the sunlight without the Oakley Women's D-Fringe Sunglasses. This modern twist on the cat-eye shades of the fifties features Plutonite lenses for complete protection against harmful UV light and O Matter frames for lightweight durability that will stands up to the knocks and bumps of daily use.
O Matter frames are lightweight, impact resistant, and provide all day comfort
Plutonite lens material blocks 100% of harmful UV light and is highly impact resistant
Three point fit system holds the lenses in an ideal optical alignment
Base 6 lens curvature provides ideal peripheral vision and side protection
Modern take on the cat eye gives you a hip mid-century look
I LOVE THESE SUNGLASSES. They were given to me as a gift - I probably never would have picked them out. But they've turned out to be my go-to pair, and I get compliments all the time. Great for around town, hiking, and laid back climbing days.