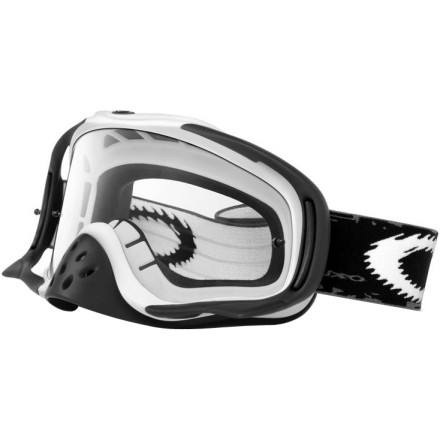 Oakley has their goggles dialed after years of development. So it's not a stretch to say that the Crowbar is pretty much the top of the heap. The White Oakley Crowbar Goggles use an outrigger strap attachment that effectively moves the tension of the strap, from the outer edges of the goggle frame in towards the center. This creates a more even pressure across the brow and cheeks and eliminates "goggle pinch" to make them supremely comfortable. The Crowbar design allows a larger lens so you'll get greater downward and peripheral vision. After all, the more you see, the faster you can go right?
The Crowbar Goggles are built for racing/riding in the muck. They have tear-off posts so you may use tear-off film when it rains the night before a big event and the organizers hold the races anyway. In shady, low-light conditions, you can be sure that you'll still be able to see under a heavy canopy of leaves or in a downpour thanks to the clear lens. Oakley uses their O Matter to create a strong and resilient chassis that is flexible when it needs to be in order to keep from smashing your face when you inevitably auger into the dirt like a human missile. And when you get back up, the lenses benefit from their F3 anti-fog coating to keep your view of the trail crystal clear even as you huff and puff to try to make up for lost time.
The lens is also extremely impact resistant. Just like all of Oakley's premium eyewear, the Crowbar lenses pass the ANSI Z87.1 testing. In simple terms it's an "above and beyond" impact test, and Oakley goggles give you the best protection that you can get. And for those sunny days, the Crowbar frames have a triple layer, fleece covered foam padding that cushions your face and makes them super comfortable. The fleece wicks sweat away to keep it from dripping down into your eyes.
The Oakley Crowbar Goggles are White and have a clear lens. They come with a seven-pack of laminated tear-offs. The elastic strap has silicone grippers to keep it in place on your helmet.
Proposition 65 Warning for California Consumers: This product contains chemicals known to the State of California to cause cancer and/or birth defects or other reproductive harm.
What do you think about this product?
Have questions about this product?
Unanswered Question
are the black plastic nose-cover removab...
are the black plastic nose-cover removable?