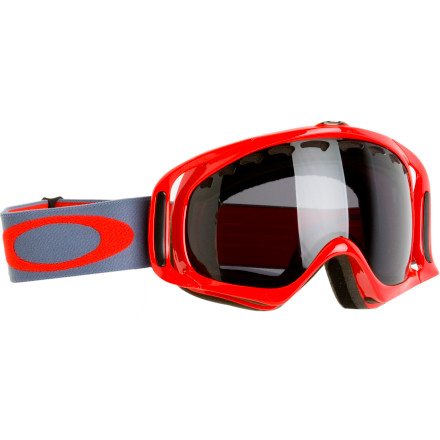 Detail Images

Videos

Community Images
Share your thoughts
What do you think of the
Oakley
Crowbar Goggle - Polarized
? Share a...
Perfect fit!
Familiarity:

I've put it through the wringer
When you find a frame that works perfect with your face with or without a helmet and then a lens that works great for any weather the H.I. Amber you can't help but grit your teeth and scream for joy. The polarized lens really steps up the game and gives you a real sharp view of anything you come across. Never once had any fogging issues with these goggles just clear views of what the day has to offer.
Oakley Crowbar Goggle - Polarized
I like these, but just moved to IOS
These are one of the better goggles I have ever bought and used extensively, but will soon just be using my IOS. The fit is great, they breathe effortlessly and of course they are polarized. I love these goggles, they come with me on all winter backcountry trips!
These are great for both sunny days and overcast days in terms of being able to see. The only complaint I have is that they stick off you head/face fairly far.
Great lens, decent goggle
I briefly owned the Fire polarized Crowbar goggles. I was very impressed with the polarized lens, however I found other aspects of the goggle to be slightly lacking.

I enjoyed this goggle most when used with a helmet, and at the ski resort.

I originally used the A-Frame goggle, and when it came time to upgrade, I tried both the Crowbar, and then the Elevate goggle from Oakley, but I found both to be too small for my somewhat wider face. They also did not vent as well as my A-Frames when touring/hiking.

I ended up returning these (Thank you Backcountry!) and buying a replacement pair of A-Frames. This is still a great goggle, just not ideal for my face size, or intended use (plenty of backcountry skiing).
loved these until they cracked right in the middle of the lense, they are fine while riding till you crash on a jump, get hit in the face by a tree or whatever, then crack, right down the middle of the lense, there goes your 200 dollars
super clear and don't fog up - even climbing
Theez Steeezy ass googles make me feel like im part of the dankest festive snowboarding team, which i am. They are big googles good perifeal vision. Not a chance these fog up. CAnt wear at night to dark. I have the jetblack johnsons. im hungover happy new year buy these bitches if you got pockets filled wit paper
Bought the HI AMBER POLARIZED during the semiannual sale at at great price. Great contrast resolution and face fit. Some halo effect in bright light at the periphery of the lens.
Even when you're rolling down the windows, kids on the chair just think your natural instinct to pull the eject on your F/22 is kicking in; until you blow your back out. Still look sick while writhing in pain! VR28 is the most versatile lens that I've used in both glaring sun and white-outs; fit is excellent with or without helmet. Don't worry, no one can see your tears.
Never has had any fogging problems and they look your face look steezy :)
highly recommend
I ride with these goggles everyday. The Polarized lenses are the best, its so much better on your eyes. I have pretty sensitive eyes. But when i where these goggles/lenses my eyes feel fine all day. No squinting. I recomend these goggles to the fullest. if you are an active rider, its worth the money.
Best goggles ive ever owned.
If you dont want to own 200 goggles, but have a glass for every condition, or if you want to have a glass for every condition, but want to rock a different color or style half the day, the crowbars are the goggles to get. They are rad looking, do NOT fog up, and feels good on your face. You dont have to worry about a sore nose from these goggles. They fit alot of helmets (I got a BERN, Sweet and a Smith helmet, these goggles fit em all).
Does anyone have a preference on H.I. Amber...
Does anyone have a preference on H.I. Amber or VR28 Polarized? And does the Polarized have any reflective quality on the exterior of the lens when in sunlight?
They are both a good lens, but it kind of depends what youre looking for. The VR28 polarized is 14% visual light transmission while the HI Amber is 25% VLT, so similar, but obviously the VR28 is going to be darker overall.
The Hi Lenses and the Polarized lenses are both treated to cut glare. Obviously, the Polarized will do the job better, but the transmission is higher on the Amber lens.
My preference is the Hi Amber, but if possible, take a trip to your local Oakley "Vault" or distributer and get a hands on feel for both lenses.
Best Answer
BOTH lenses are polarized. The Hi Amber is polarized and a Hi-intensity lens. They are both good all purpose lenses, with the VR28 giving you more natural colors but still with increased contrast. I have the Hi-Amber polarized in a pair of Crowbars now, and sometimes they are almost too much: The colors are intense and things really POP out of the snow-scape. They look killer, though, if that is something you are after. They can be very good when the light is low but variable and I like them in the trees. One thing to check out is the Lens simulator on the Oakley site, which will give you an idea of what the slopes look like out of the different lenses. Bring on the snow...
Hi, What is the difference between VR28 &...
Hi, What is the difference between VR28 & H.I.?Thx
the H.I. amber is a little yellower, and the vr28 is a little more orange, and the amber has a blue fade in the middle, kind of like the H.I. persimmon.